Flip Byrnes mixes a guided tour of Italy's highlights with free-range sightseeing.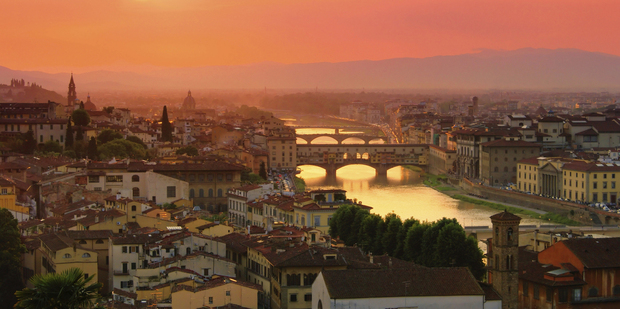 I'm a woman on a mission. No, a pilgrimage. With an afternoon in Florence, the world's leather capital, I'm stalking Stondo, the designer of a handbag I bought four years ago.
There is much to distract. Watching the chic Florentines stroll down Via Calzaiuoli, the 3D view of Michelangelo's pert derriere in the Accademia, not to mention a rainbow of gelati and a glimpse of gold on the Ponte Vecchio.
However, any red-blooded woman understands that after finding the perfect handbag, what you need is another, whose soft folds remind you of the scent of Tuscany in summer and whisper of Florentine craftsmanship, a small part of Italy to put the jazz into a weekly shop at Pak'n Save.
Stores no longer stock the brand, but one directs me to Stondo himself. So begins a delightful adventure, down cobbled alleys to a small door somewhere in the labyrinth of lanes beyond the River Arno.
Signor Stondo is surprised his wares reach New Zealand. Meanwhile, I'm stunned he has my bag, half-price of the store-bought original, and I depart holding my trophy like I've found the Holy Grail.
After many Italian visits, it never ceases to amaze me that each fresh visit yields new discoveries. The question is how to find them?
That is how I joined a Trafalgar tour, interesting for someone who is allergic to tour buses, assuming set itineraries discourage spontaneous, stolen moments that convert a trip from fun to fabulous.
But on their new Insider Secrets tour, featuring a series of Be My Guest meals in local houses, vineyards and cooking schools, I'm promised niche, unique experiences wrapped in the cosy blanket of pre-arranged travel, plus free time for mini adventures of the Stondo variety. Intrigued? Si, certo.
The first evening sets the tone. We arrive at our 14th-century Villa Il Poggiale tucked in the hills near Florence, to find four-poster beds and linens by local artisans. Il Poggiale is hard to find and harder to leave, but we have something else on the menu. Literally; a cooking class.
But first, we need to buy ingredients. Guide Marco sends us into Florence's Sant'Ambrogio markets with a list and euros.
We scatter like contestants on The Amazing Race, seeking clementine senza semi (seedless clementines), mushrooms the size of large pillows and juicy susina nera (black plums) for our lunch.
Clutching our wares, noses filled with the scent of caciocavallo cheese (a local speciality), we arrive at I Tre Pini (Three Pines ) restaurant in the Chianti hills. There are only two pines now, but the name has stayed the same. What we've lost in a tree we've gained in Libero, our chef.
Libero is an Italian nuclear explosion, a ball of unharnessed energy. And he's about to kill us - with more food and wine than are digestible.
I Tre Pini is a well-oiled machine as we make the local ribbolata soup delicacy and cut tagliatelle pasta, further lubricated with their Fragolino sparkling strawberry wine.
Dessert is a visit to the tranquil San Miniato church nearby with million-dollar views of the Florentine skyline (another local secret: avoid the look-out choked with tour buses), but away from the well-trodden path.
It's tempting to stay, but brash Rome beckons. Unlike polished Florence, Rome has grit. If Florence is a sophisticated woman, Rome is a rock star.
It has the big-name hits - the Colosseum, the Forum and Circus Maximus. The traffic, the swagger, the edgy attitude of the former capital of the Roman Empire adds a thrilling raw undercurrent to this dynamic city.
We're staying at boutique Kolbe Hotel Rome, the 15th-century building stunningly renovated for 21st century guests. Any closer to the Forum, site of public Roman life for centuries, we'd be in it.
Sitting on the modern round bed (first time for everything), admiring the ethereally lit ruins at night, this moment sums up Rome best - a perfect marriage of old and new.
Next morning, I hit the ground running. We will visit sites with our group later so, at dawn, I grab jogging shoes and head for the streets. There is barely a need to enter Rome's museums, history is outside.
Architectural heirlooms are treated as anything from large traffic islands (the Colosseum) to pigeon posts (any of the eight Egyptian obelisks). At this hour, I have them to myself.
Despite no plan or map, I first stumble across the Pantheon, one of the world's great spiritual structures with a multi-use history. Commissioned to worship pagan gods in 27BC, it was rebuilt in 120AD and consecrated as a church in the early 7th century. Nothing like going with the flow and changing with the times.
Jogging on, signs lead to the Trevi Fountain. Shortly, hordes that throw €3000 each day into the fountain, ensuring their Roman return (monies are donated to a charity supermarket), will arrive.
But now, I could do an Anita Ekberg in La Dolce Vita and stroll the waters alone - a copycat feat that got buxom American model Anna Nicole Smith arrested.
Alleys thread towards Roman hot-spot, the Spanish Steps. It isn't the 138 steps from the Piazza di Spagna to the Trinita dei Monti church that entice, but the people-watching on offer. Come midday, this is the perfect perch to grab a gelato and gaze as people browse Prada and Gucci on Via dei Condotti, a shopping artery of big-name spending.
Finishing at Piazza Navona, one of the most famous squares in Rome for my breakfast date with tour mates, I've completed a neat circle of Rome's inner jewels, covering 2000 years of history.
I haven't seen all of Rome, not by far. I'll save sights like the Colosseum for my guide, whose information and humour injects these slumbering buildings with life.
But the perfect mix of my own exploration, with local guides who share their treasures, makes me believe choosing the right tour can be an easy way to travel and be rewarding.
TRAVELLERS' TIPS
Getting there: Singapore Airlines operates 12 times a week from Auckland to Singapore, connecting with Rome flights on Tuesday, Friday and Sunday.
Touring: Trafalgar's 10-day First Class Flavours of Italy guided holiday costs from $3399 a person twin share (land only). See the sights of ancient Rome, Renaissance Florence, Pisa, Byzantine Venice and sample the Tuscan lifestyle.
Flip Byrnes travelled as a guest of Trafalgar.