With a staircase to the moon, camel rides on the beach and the taste of rosella flower wine, Broome is no ordinary Australian town, discovers Megan Singleton.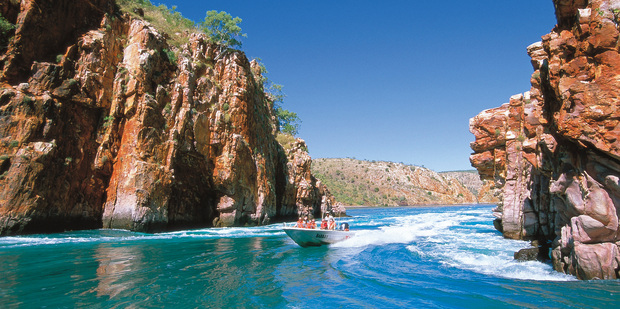 I'm standing at Broome Airport waiting to board a sight-seeing plane that will fly across the Kimberley.
A teenager with a clipboard is reading our names, then makes us sign waivers absolving the airline from responsibility should we die, and proceeds to explain the day's tour. I assume the pilot of the tiny six-seater will be along in a moment. Then the penny drops. This young man with the baby face and knobbly knees is the pilot, and although in his 20s, the plane he is now walking us to was built in 1974, some years before he was born.
But not one to shy away from danger, I slip my hand up quick smart when he offers the front seat.
Unfortunately, for me, the wall of instruments on the dashboard is so high I can't see out the window, so content myself with side views.
Holding my camera high, I hit the record button to video our improbable take-off so air investigators will have something to work with later.
But like Chitty Chitty Bang Bang, we splutter up into the air and the township of Broome, with its fiery red soil bordered by the long white sands of Cable Beach and the most astonishing pale blue sea, shrinks beneath us.
There is no air conditioning in this single engine plane, just a natty plastic disk which one twists in the window to allow airflow. It's not quiet either, so donned with headsets we communicate with each other and listen to our pilot's commentary. I watch eagle-eyed as he writes important figures in his log book at the same time.
Broome is two and a half hours north of Perth (by commercial airliner). It's about as far from New Zealand as any Australian city could be, but the incredible landscape of the surrounding Kimberley region makes it an absolute must-see.
As we buzz over the landscape I feel like I'm looking down at Mars. The pindan soil is brick red and rocky desert sand is criss-crossed with long stretches of dusty road connecting Broome with its closest city, Darwin, some 1100km away.
But this is not bush country as we know it. This is the outback. It's dry and anything that survives out here has to be tough and rugged.
There are diamond mines and turquoise lakes and teeny airstrips dotted along today's route. After about an hour bumping through the heat rising off the dusty earth below, the pilot radios for clearance to land in the middle of absolutely nowhere. I'm comforted at least that the man on the other end of the microphone must know where we are.
It turns out we are stopping for lunch at a backpackers' frequented by those doing the long drive to Darwin, via Fitzroy Crossing, Kununurra and Katherine which is recommended to take several days.
Our ever-resourceful pilot has sandwiches in the boot (yes, this plane has a boot) and there are juices all round. We see one other person and I love how completely remote this is, and the daggy Customs sign over the arched gate.
These airstrips are also used for the Flying Doctors as this is the only way locals can get urgent medical help.
Then we're off again, this time to fly over the remarkable Horizontal Falls, which David Attenborough described as one of the greatest natural wonders of the world.
They are created by two gorges in Talbot Bay, in the Buccaneer Archipelago. When the tides change, the volume of water builds up to 10m high and is forced through the first gorge, which is 20m wide, then the second one, which is more spectacular at 10m wide.
The whole process takes over six hours on each tide and you can go through by boat, but from the air you appreciate the full perspective.
The sea underneath us is almost emerald green and when we spotted a whale and her calf from the air our boy-pilot looped us around so we could all get a look, then landed at a nearby beach for a swim before returning us safely back to Broome.
Who said anything about being nervous?
MUST-DOS
Cable Beach Amphitheatre
During the dry season (April to September) take a picnic to the Cable Beach Amphitheatre, edged by Cable Beach Club Resort, and enjoy Opera Under the Stars. Other concerts and events are also held on this rolling green which runs down to the beach.
Staircase to the Moon
For three days each month between March and October, the full moon rises over Roebuck Bay. As the estuary tide recedes, the rippled mud flats create a "staircase" that appears to climb to the moon.
Start (or end) your day on the back of a dromedary along Cable Beach. I rode 32-year-old Munju, who is now semi-retired and does the languid beach walk only a couple of times a week.
Pick up mango wine, jams, chutneys, sauces and smoothies all grown and made here, or try a wood-fired pizza on Friday and Sunday nights. The highlight is tasting their rosella flower wine. It's sweet like port, and a drop in your champagne glass would be sublime.
This award-winning microbrewery is a great spot for an afternoon tipple or a sunset drink. The mango beer was my favourite, but the alcoholic ginger beer is the most popular, and the chilli beer will give you a kick.
TRAVELLERS' TIPS
Where to stay: Cable Beach Club is on the beach beside a sprawling park.

How to get there: Air NZ offers daily flights between Auckland and Perth; connections to Broome are available are from Air NZ and Virgin Australia.
Megan Singleton travelled to Broome courtesy of Air New Zealand and Tourism Western Australia.