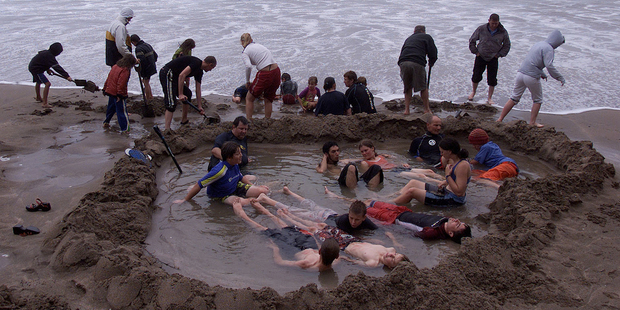 We love finding ourselves in hot water, at least hot water of the literal sort. Cold air, hot springs - nature we dig you.
1. Okoroire Hot Pools
Somerville Rd, Okoroire. Ph (07) 883 4876. $15 per hr, per person.
Just a few km from Tirau, the Okoroire Hot Springs Hotel is a fruity place for a hot pool getaway. Take the short bush walk to the charmingly rustic private pools, surrounded by bush and ferns. And when you're done soaking, pop up to the hotel and enjoy a meal, a round of golf or quaint wee Tirau just up the road.
2. Otumuheke Stream, Spa Park, Taupo
Get to Taupo on SH1, turn on to Spa Rd at the roundabout next to Countdown. Drive approx 3km then turn left on to County Ave where you'll find a carpark at the end of the road. Walk across a large field where you'll find a hot stream flowing under a bridge out into the Waikato River.
Take your togs and towel and leave the rest up to nature. Be warned though, reports of thefts from cars mean it's wise not to leave valuables in your vehicle.
3. Hot Water Beach
On the East coast of the Coromandel Peninsula, approx 12km southeast of Whitianga.
Hot Water Beach is fantastic, despite the prosaic name. It turns out some volcanoes develop huge underground reservoirs of superheated water which, over time, escapes to the surface and can sometimes be as hot as 64C.
Take a towel, a spade and your togs and plan to dig an hour either side of low tide.