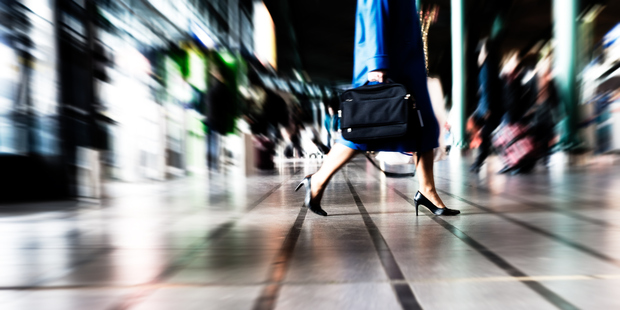 Women are breaking the glass ceiling in the business sector, but it's still the suited men who are hogging the business trips.
The Accor Asia Pacific Business Traveller Survey released today shows New Zealand business travellers still tend to be boys, with 70 per cent of Kiwi corporate travellers being male. Perhaps it's a fair reflection of a corporate sector that considers getting 25 per cent female participation on boards by 2015 a lofty ambition (as announced by the 25 per cent Group in June).
"One thing that doesn't seem to change... is the disproportionate number of men to women involved in business travel," says Accor's Peter Hook.
"Despite all efforts made to bridge the gender gap in senior management roles, males are still well ahead of women in taking business trips."
In fact, companies might actually save a little by sending women on business trips. The survey found 20 per cent of male business travellers thought it was acceptable for their employer to pay for them to hit the mini bar, compared with 15 per cent of women.
And, in figures that will resonate with Labour MP Shane Jones, nine per cent of male business travellers were happy for the boss to cover services such as pay-per-view movies (with women it's five per cent).
So, for those employers who think business trips should be focused on doing business rather than battering the mini bar and watching dodgy flicks in the hotel room, a female staff member is the one to send.
Live a little
Sadly, even the boys don't seem to be going wild on tour.
Only 10 per cent of Kiwi business travellers extend their trip to take in a holiday (well down against the holiday-tastic Taiwanese who are on 33 per cent and the Malaysians on 25 per cent).
I can't help but think our business travellers are missing a trick there. Your boss has stumped up the airfare to get you somewhere nice, so why not take advantage by tacking on a few days of sightseeing or beach-blobbing at the end?
Book at your own risk
The survey also found that Kiwis preferred to book their own business trips rather than go through agents. There's something in our national psyche that dreads to see our ticket being clipped - it's the same part of us that just doesn't get tipping for restaurant service.
If you must book trips yourself, be careful how you go about it. At least one online booker has admitted to showing Mac users pricier hotel rooms than those shown to PC users. Orbitz found that people using Mac computers were willing to pay up to 30 per cent more for hotel rooms than PC users, so it highlights more expensive options for them.
It's the kind of hazard an informed and experienced travel agent could easily navigate around.