This modern Arab state respects its traditions, writes Bob Pearce.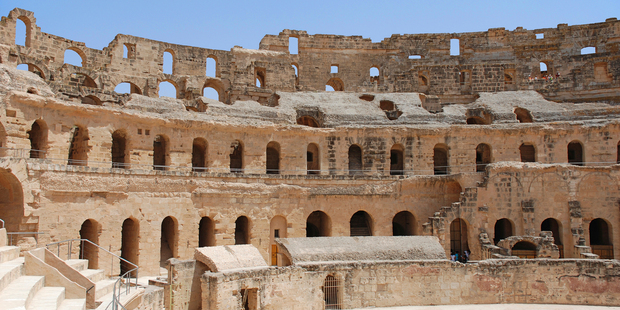 To ear or not to eat? That is the question and, after missing breakfast to catch a flight from Dubai to Tunis, hunger supplies the answer.
But lunch with a gin and tonic on this Emirates flight has complications. It is the beginning of Ramadan when faithful Muslims fast from dawn to dusk. Many on the plane are fasting and I feel guilty eating when the guy in the next seat is concentrating fiercely on his newspaper.
We expect everyone to know Good Friday and Christmas Day are our concessions to a Christian heritage. But even in multicultural Auckland Ramadan barely registers with most people.
Dubai provided a gentle wakeup call. Its reputation for the biggest, the most expensive and the daringly modern obscures the fact that the ruling family upholds the Muslim tradition. Ramadan means shopping malls open and close later and tourists are encouraged to do any daytime eating or drinking inside their hotels.
When the sun sets, the Iftar prayers herald the breaking of the fast and restaurants and cafes lay on special meals.
More dramatically, at the end of the month of Ramadan comes Eid al-Fitr, a public holiday in Dubai, where everyone celebrates - the malls and tourist attractions overflow and finding a taxi is like striking gold.
What is true of Dubai is even more so in Tunisia, a largely Muslim country which attracts many Western tourists to its beach resorts, where commerce and religion reach a compromise even after the return of a Muslim-inclusive government following the overthrow of a dictator at the dawn of the Arab Spring.
It's not beaches that have brought me to North Africa, but Roman ruins. The Roman Empire spread across the Mediterranean and their imperious buildings have been well preserved by the hot, dry climate.
Having sacrificed my youth to Latin and Greek rather than the soccer and cricket I would have preferred, I wanted to flesh out the memories beyond Kennedy's Shorter Latin Primer.
Hannibal's pounding of the Romans with his 300 war elephants is well known. But who remembers he was a Carthaginian and that Carthage is an upmarket suburb of modern Tunis? When they got the chance the Romans wiped out almost every trace of that era.
The most interesting remains are the circular Punic ports from which the Carthaginians harassed Roman fleets.
These and a mixture of Roman remains, including an amphitheatre and the Antonine Baths, are readily explored via the light railway that runs out of Tunis.
The same railway will take you to Sidi Bou Said, a pretty blue and white village on a cliff above the Gulf of Tunis. More Greek Islands than Arab, it is a big tourist draw.
For Roman history buffs there is nothing to touch El Jem with its huge colosseum. Built between 230 and 238AD, it is almost as big as its counterpart in Rome. It is in better condition and readily accessible on the very efficient electric railway.
Ramadan may not be the ideal time to make the trip but it sure adds to the experience.
The rail terminus is only a couple of blocks from Tunis' main street. The ticket clerk helpfully provides a special timetable for Ramadan.
The portents are not good. A group of German tourists expecting to be taken to the second city of Sousse discover our El Jem-bound train doesn't go there despite what the board says and they'll have to take a taxi from the nearest stop to reach their beachfront hotel.
Two hours of olive groves ringed by cactus hedges later, my blind faith is rewarded. Out of the desert like a mirage rises the Amphitheatre of El Jem, the train stops and it's only a five-minute stroll to one of the least-visited wonders of the ancient world.
Back in Tunis and a few centuries on, there is the medina and its souks, mosques and living Arab history and culture. There is also the Bardo Museum (website in French), which puts into perspective all you have seen.
But back to food. With a nod to Ramadan, I did my best not to offend anyone. Breakfast at the hotel would be my only meal until after Iftar. The temperature hovered around 30C, so I sipped discreetly from a bottle of water when no one was looking.
On the first night I sat at a cafe about 6.30pm and expected to be served as in Dubai. But whereas the sun sets in Dubai at 6pm, in Tunis it's nearer 7.30pm.
Next night, I adjusted my timing and a waiter served me. Everyone else was still waiting for the appointed minute and I drew hostile glances.
Finally, I thought I'd cracked it. Iftar had passed and there were plenty of people at the roadside cafe. But no service.
Then it dawned on me. The waiters and cooks were having their first cigarettes and drinks of the day and the customers were waiting their turn.
CHECKLIST
Getting there: Emirates has flights to Dubai and on to Tunis.
Further information: See tourismtunisia.com.
Ramadan: Ramadan this year runs from July 20/21 until August 18/19. Click here for background information.
* The NZ Ministry of Foreign Affairs and Trade is currently advising travellers in Tunisia to exercise caution in public places and to maintain a high level of personal security awareness. For the the latest MFAT advisories on Tunisia, see safetravel.govt.nz.