Ten things to see in Shanghai, one of the world's most vibrant cities.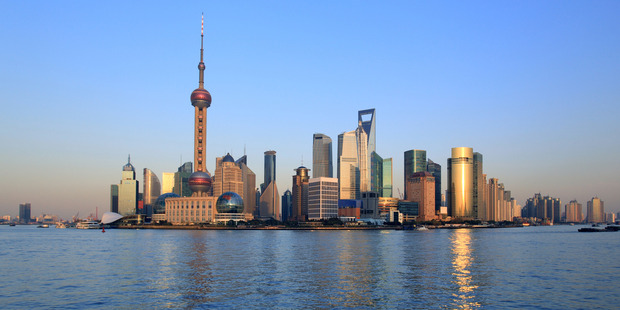 1. Take in the view
The skyline is one of Shanghai's highlights, with developers seemingly looking to outdo each other with the tallest, most extravagant building. Contemporary architecture and countless beautiful skyscrapers compete with the art deco buildings of "old Shanghai" for glory.
It's a tourist mecca, but the Oriental Pearl Tower, actually a TV tower, is worth a visit, or at least a viewing from across the river - the mind-blowing, futuristic Pudong view is best seen from the famous Bund at night.
When the haze of smog and mist clears, the view from the Park Hyatt, Shanghai's highest hotel (although set to be overtaken by the building being built across the road), is another must-see.
Looking out from the 91st floor at the sea of buildings below is both thrilling and just a little scary.
2. Appreciate some contemporary Chinese art
As well as viewing contemporary local art, visiting art galleries in the former French Concession is a great way to see some of the area's distinctive architecture.
The Elisabeth de Brabant gallery is housed in a charming four-storey renovated Shikumen-style house from 1933, with a steep staircase in the middle and exposed bricks with the original stamped signatures of those who created them.
Meanwhile the Shanghai outpost of New York's James Cohan Gallery is hidden down a inconspicuous Shanghai lane and located in a beautiful art deco villa.
Elisabeth de Brabant: 299 Fuxing Xi Rd, Shanghai.
James Cohan Gallery Shanghai: 1/F, 1 Lane 170, Yueyang Lu.
3. Flex the credit card at Plaza 66
Luxury brands are falling over themselves to woo Chinese customers, with the country reportedly set to overtake Japan and the US as the leading luxury market - although some worry about the recent slowdown of the Chinese economy.
Shopping mall Plaza 66 is a mecca for those high-end shoppers, with boutiques from every luxury designer brand you can imagine: Balenciaga, Celine, Dior, Chanel, Hermes, Lanvin, Marni, Prada, Valentino and more.
The mall is also the location of Louis Vuitton's incredible four-level Maison, its first "house" in China.
Plaza 66: 1266 Nan Jing Xi Rd.
4. Eat in style at YongFoo Elite
Located in a former diplomatic 1930s building, this elegant restaurant transports you to the Shanghai of a bygone era as you enter, with a dreamy, lantern-lit garden complete with large magnolia trees and opium bed.
Owned by former fashion designer Wang Xing Zheng, it is a visual delight, with two-levels of indoor dining and three bars - an eclectic mix of modern furniture and antiques.
The food is expensive, but really, it's all about the decor.
YongFoo Elite: 200 Yongfu Lu, Xuhui District.
5. Get tailored at the South Bund Fabric Market
A maze of booths selling a huge range of fabric, at this famous market you can also get pieces made to measure.
The results vary, but the prices are cheap so think of it as a type of Shanghai experiment. Take a pattern or example of what you are after for best results.
South Bund Fabric Market: 399 Lujiabang Lu.
6. Get a coffee fix at Baker & Spice
There are various Baker & Spice cafes around the city, but visit the original on Anfu Lu. The Western-style artisanal bakery features a wood-grained marble storefront, a communal table and wide range of delicious baguettes, bagels and cakes, plus coffee from their own coffee beans. This is the cafe New Zealander Dean Brettschneider helped to set up.
Baker & Spice: 195 Anfu Lu.
7. Take in city life
The awe-inducing skyline is a feature of Shanghai, but the bustle at street level is a major highlight too - you could easily spend hours wandering the streets watching locals live their lives amongst the frenetic pace of the city. Car horns blare, women in space-age visor hats whizz past on scooters, knickers and T-shirts hang outside shops to dry and locals get together to dance on the footpaths as the sun goes down.
For shopping and a taste of street life, Tianzifang is worth a visit, an old neighbourhood characterised by its bohemian vibe and maze of small alleyways. Here you will discover boutique shops from local suppliers and designers plus a great range of cafes and bars.
8. Indulge in the city's nightlife
Shanghai nightlife is iconic, and with the heady evening heat, it's easy to see why the city comes alive at night. There are many famous grand bars on the Bund that hark back to the decadence of Shanghai in the 1930s, for those who want a bit of historical significance with their cocktail - from the Long Bar in the Waldorf Astoria, first opened in 1911 and restored in 2010 with a 34m-long bar and the feeling of an old gentleman's club, to the Jazz Bar in the iconic Peace Hotel (now officially known as the Fairmont Peace Hotel). It's in all the tourist guides but still worth a visit, with a the Old Jazz Band performing each evening - six musicians with an average age of 77.
Another Bund hotspot, Glamour Bar, also goes for the days-gone-by theme, with three bars in one with slick, decadent decor, and stunning views of both modern and historic Shanghai. There's substance behind the glamour too: the bar hosts the Shanghai International Literary Festival each year, and also holds monthly wine, food and literary talks, as well as book exchanges.
Long Bar at the Waldorf Astoria: 2 Zhongshan Dong Yi Rd.
Fairmont Peace Hotel: 20 Nanjing Rd East.
Glamour Bar: 6/F, 5 The Bund (cnr of Guangdong Lu).
9. Shop local boutiques
Small lifestyle boutiques offer a unique take on Shanghai creativity, whether it be homewares or fashion. The Platane boutique features a quirky selection of furniture, jewellery and fashion, combining Chinese culture with international design, while Poesia offers a colourful take on Shanghai style. Designed by Chris Chang, formerly the general manager of Prada Taiwan, the collections at this boutique are inspired by childhood fantasies, nature and ethnic costume, so expect lots of colour, kaleidoscopic print and surrealist fun.
Platane: 439 Wukang Lu.
Poesia: 2F, Bldg 6, No. 3539 Dong Fang Lu.
10. Shop the bric-a-brac at the Dong Tai Lu Antique Markets
The famous Shanghai market where, if you're patient and lucky, genuine antiques can be discovered amongst the "modern" antiques, quirky Chinese gifts and tourist scrap.
There are hundreds of stalls and permanent stores here, with various antiques, curios, jewellery, goldfish, baskets, teapots, books and nostalgic bric-a-brac and plenty of Mao memorabilia. Go for the experience, and practice your haggling skills before you visit.
Zoe Walker flew to Shanghai direct with Air New Zealand.