Belinda Henley seeks out some of the best eating experiences Sin City has to offer.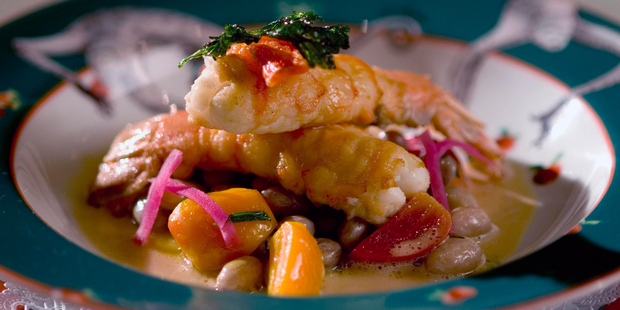 Las Vegas gets a bad wrap for many things. Affectionately - or perhaps derisively - referred to as 'Sin City', it is certainly not widely known for its cuisine offerings. But, it should be.
Vegas has more Michelin starred restaurants per capita than anywhere else in the world. The last time I visited almost ten years ago I had one of the best meals of my life at Le Cirque in the Bellagio hotel. So I was well overdue a trip back to check out some of the restaurants which have made the city one of the fine dining capitals of the world.
Four nights in the city gave me four dinners, as well as the odd brunch and lunch to find.
Night one was a particularly good one as I managed to squeeze in two meals.
First up was an early dinner at the Red Rock Casino's T-bones Chophouse, about twenty minutes away from the strip. Recently voted the best steakhouse in Vegas, it is a stunningly outfitted restaurant where Kiwi Sarah Frances Johnston is currently in residence, singing jazz to diners four nights a week.
The chef, Philipp Norsetter talked me through my options and started me off with a selection of his two signature salads: a Caesar made with a horseradish and Dijon mustard dressing and their house salad made with bacon, gorgonzola, tomato and avocado.
For my main I had the special - a 10 oz 'flat iron' wagyu beef steak, served with fried onion rings and house-made steak sauce. The meat was perfectly cooked, tender and full of flavour.
After taking in a show I headed to the tapas restaurant Jaleo at one of the new casinos in town - the incredibly impressive Cosmopolitan. Two stand-out dishes there were the braised veal cheeks and a warm spinach salad with raisins and pine nuts.
Next on my quest was Sage at Aria Resort & Casino.
Chef Shawn McClain is particularly interested in "clean" and sustainable produce and farm-to-table produce, something you don't find too often in the US.
To be honest, the high point of this dining experience was our incredible 'server' Bond. Yep, that was really his name.
Bond was like no waiter I have ever had in my life and embodied everything you hope for when dining out. Funny, charming and well informed about the food and wine, he took over the ordering and brought us course after course accompanied by perfectly matched beverages.
The food was simple, tasty and beautifully presented. Most memorable for me were the Alaskan king crab, which I had never tried before, and a foie gras crème brûlée. Sage was last year voted best new restaurant in Vegas and from what I experienced, it's a title well deserved.
Along with the higher-end offerings, I also experienced some more causal dining.
The restaurants in the Tropicana hotel, where I was staying, are well-priced and world class. Its Beach Café offers a great breakfast buffet (don't be afraid of the buffet, some in Vegas are excellent) in a perfect spot overlooking the pool.
Another popular pool-side eatery is the Simon Restaurant & Lounge at Palms Casino Resort. I had their signature French toast of brioche crusted in cornflakes and served with maple syrup and fresh berries. They also serve surprisingly good coffee by American standards.
One thing America does do well is sushi, thanks to a proliferation of Korean and Japanese chefs. I went to the newest Japanese restaurant in the city, Mizumi at the Wynn. From an aesthetic perspective, it was one of the best dining experiences I had.
The restaurant opens onto a Japanese garden and a man-made waterfall so we were able to virtually eat "outside" - something of a rarity in Vegas.
Chef Devin Hashimoto was previously a sous chef at a French fine dining restaurant and is renowned for his ability to marry Japanese flavours with French techniques.
We were treated to his Omakase menu, six courses of his specialities matched with cocktails, wine and sake. The courses were small, intricate and stunningly presented, with incredibly complex, yet clean flavours. The yellowtail sashimi with jalapeno gelée had an amazing bite to it, the spicy king crab and taro tacos had wonderful textures. I also loved the wagyu beef tartare with furikake brioche croutons.
Every course was delicious but for me the real highlight was the dessert, an amazingly delicate green tea and chocolate crème brûlée.
I also visited Yellowtail, the Bellagio's Japanese restaurant which, in my opinion, has the best position of any restaurant on the strip. We dined on a balcony overlooking the Bellagio's lake and its wonderful fountain show.
While everything we tried here was fantastic, I had come to Yellowtail to try one dish in particular, the big eye tuna pizza, which I had read about in several foodie publications. Made from impossibly thin slices of raw tuna drizzled with truffle oil and served on a crispy pizza base, it was all it had promised to be and much more.
Saving the best for last, I headed to Joël Robuchon Restaurant at the MGM Grand, considered to be one of the best restaurants in America.
Robuchon, who was recently crowned 'Chef of the Century', lives between Paris and Spain and has thirteen restaurants around the world, including two in Las Vegas.
As soon as you walk into the lavish dining room, it becomes obvious this is no ordinary dining experience. The room is incredibly ornate, and dominated by a huge chandelier. While it is undeniably formal, with diners and wait staff speaking in hushed tones, it is also very comfortable with the service attentive without being stuffy.
We were ushered into a plush, purple, velvet booth which we were promptly told was Celine Dion's regular table. Clearly, she wasn't eating that night.
I opted for a four-course degustation menu which began with an amuse-bouche of cherry gazpacho. The bread trolley was unlike anything I have ever seen before. More than fifteen varieties of bread served with freshly churned butter from Brittany and spicy Alicante olive oil.
The wine list was as long as a novel, so overwhelmed by the selection I left it to one of the restaurant's master sommeliers to make my choices.
For starters we shared a langoustine ravioli and a crispy soft boiled egg with smoked salmon and Oscetra caviar. Next up was a sweet pea soup with almonds and bacon and for mains: duck foie gras served with Robuchon's signature mashed potato.
Dessert was a perfectly formed chocolate soufflé and as if that wasn't enough to push me over the edge, it was followed by an incredible trolley of more than forty kinds of handmade sweets and chocolate.
I left Las Vegas completely replete and more than a few kilos heavier but basking in the glow of some of the best eating experiences of my life.
Belinda Henley flew to Las Vegas courtesy of Air New Zealand.