Spa nudges guests into healthier lifestyles, writes Anne Gibson.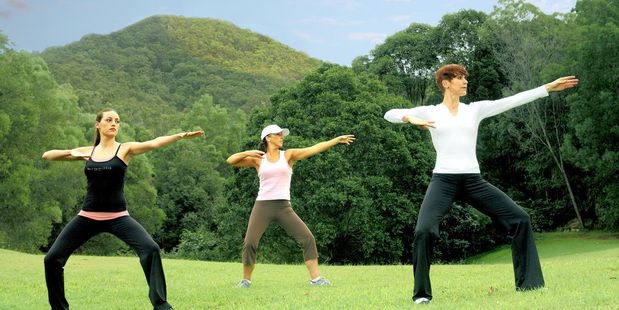 Shirley Kalnins, a nurse at The Golden Door Health Retreat, tried for many years to convince management how important her frightening lecture topics were.
People wanting R&R at the world-famous Queensland tropical bush resort didn't need to hear it, she was told. They came for a good time, not a hard one.
Kalnins, a soft-spoken Texan originally from Houston, lives near the retreat and lectures on stress management and secrets to prevent heart disease and cancer.
Standing in front of a whiteboard in the recreation room at the centre, a little over an hour south of Brisbane, the enthusiast tells of her passion for preventative medicine.
As the gum trees sway outside floor-to-ceiling windows, she tells how her brother, a doctor, advised her she was committing career suicide by entering the field of alternative medicine.
Kalnins strives for preventative treatment, so in their first two days of retreat guests get a triple dose of her medicine.
Two powerful 40-minute lectures are followed by a screening of Food Matters, the DVD with nutritionists, naturopaths, scientists, doctors and medical journalists.
The film has radical messages: 30 minutes of exercise daily is not enough, we need an hour. And more than half our food intake should be raw.
David Hunter, executive chef at Golden Door, puts that into practice by serving salads and wraps. The starter for 8am breakfast has a first course of raw fruit. The morning and afternoon teas last month were mandarins, grapes, apples and pears.
Kalnins backs the diet plan espoused by Dr Dean Ornish, and explains the causes of coronary artery disease, how our hearts beat 100,000 times a day and warns the women to fear heart disease more than cancer. "Eighty per cent of Australians have at least one risk factor of heart disease," she says, ticking off smoking, high blood pressure, high cholesterol, physical inactivity, obesity, diabetes, hereditary factors and stress. "If you want good quality of life and to ward off cancer, you have to exercise."
Apart from doing what we can to avoid these pitfalls, Kalnins, who says she will never return to the United States because her grandchildren live in Australia, has clear advice about what we should all be doing to avoid the disease. She recommends Noni juice and vegetable and fruit juices, in particular beetroot, carrot, celery and apple - 50ml a day, equivalent to about two beetroot.
Rosella punch - based on fresh rosella and berry concentrates, pioneered by the University of Queensland - is sold at health shops, she says. Sir Jason Winters Tea, an anti-cancer drink, is also on her list of must-haves.
She tells of a former guest, Theo, who lost 80kg at the retreat after staying there for nine months. He now delivers the fresh fruit and vegetables, she says.
Most guests stay only five to seven days, but half Golden Door's clientele are repeat visitors.
The retreat brings in top people in their fields of tai chi, meditation, dancing, cooking, water sports, yoga and other disciplines.
At 5.30am, well before the sun rises over the Gold Coast, work-experience staff knock on guests' doors to wake them for a dark, 15-minute hill descent and climb to the alluring tai chi field.
As the sun rises and black cockatoo, rosellas and whip birds call, guests are taught 18 perfect movements over a week, learning about three moves each day.
Then there are walks for almost an hour on three grades of track through the thick hilly bush, or deep-water running, an aquatic sport in one of two pools. Breakfast at 8am is fruit, but muesli and porridge or a cooked breakfast are served on some days.
Then comes a highlight which only the sleeping would miss: stretching for 30 minutes in the wood-floor gym beneath a 160-year-old Moreton Bay fig tree.
Guests are encouraged to move as far as they comfortably can. Mats, blankets and stretchy rubber bands are the only aids.
A lecture on health, exercise, giving up smoking, detoxification and other topics runs to almost midday. Lunch might be a fish curry with fresh salads or wraps. Guests are encouraged not to drink with their food - only 30 minutes before and after.
Kalnins says drinking with food will destroy vital gastric enzymes and interfere with digestion. A notice in the dining room reinforces the message. As the days pass, the glasses and cups slowly disappear from the tables.
Of the 30 guests at the retreat last month, about 12 were returnees. One man so loved the experience that he brought his partner to stay there with him just a few weeks after his initiation.
Anne Gibson was a guest of the Golden Door Health Retreat.

Getting There
Fly there with Air New Zealand Book now
Find out more at Australia.com