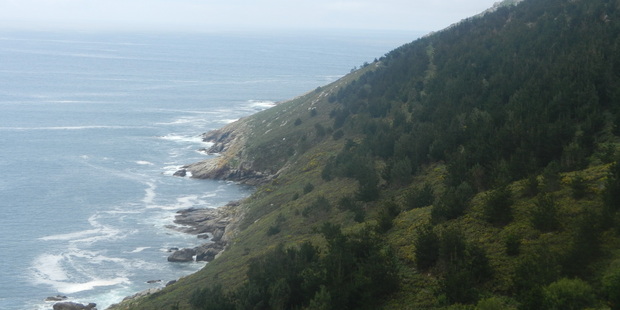 The 'End of the World' is actually pretty great. Not a line you get to write in too many yarns.
But then Finisterre isn't like any of the small villages we've seen during the last 40 or so days of walking across Spain.
For a start, it has a stunning coastline, which in itself is something of a shock to the system. We haven't seen the ocean in weeks.
Its long sandy beach, where you can gaze out over the Atlantic and bake in the sun, isn't what the guide books generally focus on though.
Their focus is on the other side, through the medieval town centre and 3.5 kilometres up a narrow snaking road to the top - what the Romans once considered to be mainland Europe's western-most point.
It's a mind-boggling view. Jagged cliffs all around and out in front nothing but blue.
At the edge sits the historic lighthouse, which now offers meals and accommodation.
And we see the final yellow scallop-shelled waymarker reading "0.00km". We're here! So are about 300 other tourists.
Still, it's a thought provoking place - the spot where Martin Sheen's character scattered his son's ashes in the hit movie The Way.
Only 10 per cent of all pilgrims make the entire journey from St-Jean Pied-de-Port in France to Santiago and, of those, few walk the 91km to this point.
Maybe, like us, they were finished. Not just walking - but in the head. As it turned out, our bodies were able but in our minds we were done.
Two days after ending our Camino, as we stood with our packs in the pouring rain, we were offered a ride to the coast. It took us half a second to decide, before we jumped in a campervan with a British couple traversing northern Spain - and were whisked away.
In the end we jumped out and walked the last 16 scenic kilometres from the quaint seaside village of Cee and rented a room by the sea.
So that's the end. I lost six kilos in under six weeks eating a giant block of chocolate a day. And no blisters either - remarkable.
I'm relieved it's over but it's been an epic adventure.
And there's still one nagging question. What do I do next?
Well there are a few options - but the first is head to the beach.
* Simon Winter is a former nzherald.co.nz news editor. He and partner Lisa are following the sun through Europe.