Want to play in the snow but do something other than skiing? Danielle Wright is spoiled for choice around the South Island.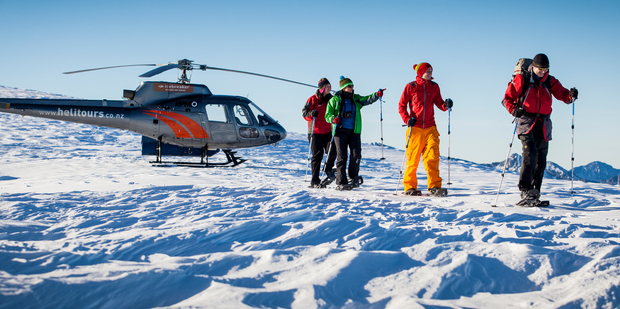 Not everyone goes to a mountain to ski or snowboard. After a nasty accident on my first snowboarding attempt, I spent years avoiding the snow. When I did get dragged along, my friends and family would go off on the harder slopes and I'd be stuck on my own with the pre-schoolers on the bunny slope. That is, until I discovered how many alternatives there are that mean you can be together on the snow, no matter your skill-level.
Dog sledding
For a true winter wonderland experience the family will never forget, try dog sledding just south of Wanaka. The dog sledding season runs from early July through to mid-August. Choose from a beginner's basic tour running for an hour at $225 per adult, or a family tour, where two parents and two primary-school aged children get the dogs ready and ride for an hour (add $25 per pre-schooler and $50 per primary-school aged child). There is also an overnight "camp-out" with the dogs, staying in a cosy alpine hut beside the Roaring Meg stream ($695 per person). Tours are full for this season so book early for next year. Telephone 027 680 6558 or visit quietrunning.co.nz.
Snow tubing
We took our children snow tubing and ended up wishing we weren't such nice parents so we could push them out of the way and have a go ourselves: it's a lot of fun at any age. It's something small children can easily master and the confidence it gave my children on the snow was a real joy to watch. Traditional skiers and snowboarders glanced over at us enviously - there's a lot of laughter coming from a snow tubing park.
Try Ozone Tubing Park at The Remarkables, open from 10am to 3pm (conditions dependent). Book by calling The Remarkables Guest Services Office on (03) 442 4612, prices range from $12 for a child to $20 for an adult for one hour. There's also Alpine Springs Spa and Winter Park in Tekapo, where the snow tubing park (open until mid-September) is adjacent to the ice rink. Afterwards you can soak in a hot pool under the stars with mountain views. (Family snowtubing pass is $70 for one hour, children must be over 5). View snow tubing online at theremarkables.co.nz, tekaposprings.co.nz and snowfarmnz.com.
Snow shoeing
Last year, I walked the Remarkables in a pair of snowshoes for a cup of tea on a frozen lake with Duran Duran's ex-bodyguard Peter Hitchman from Guided Snow Shoe Walks. We were the envy of the snowboarders (who we sometimes towed across flat areas) and got to see things like tiny waterfalls in the snow as traditional skiers and snowboarders zoomed past, not noticing the hidden beauty of the mountain. For people staying at the resorts in town, it also offers a way to experience being on the mountain without a pair of skis or a snowboard and gives them a way into mountain tales around the fireplace apres-ski.
Choose from a half-day back country snow shoeing tour (adult $145, child $105) to a privately guided heli-snowshoeing tour on a remote high country station near Queenstown, (starts at $625 per person). Visit snowshoeing.co.nz.
Back country and cross country skiing
For a farm stay in winter, head to Snow Farm, 55km from Queenstown on the Pisa mountain range. Choose from back country and cross country skiing, with Nordic ski hire available. Passes are $20 per person. There are a couple of back country huts you can ski to and stay the night and you don't have to be an expert skier to reach them. Meadow Hut is $30 per night for adults, $25 for students and $15 for children. Bob Lee Hut is $20 adults, $15 students and $10 children.
Driving on the ice
If you can't bear to be without a motor, you'll love Over Snow Tours' snowmobile rides. They range from a 45-minute experience at $149 per person to afternoon scenic tours over Snow Farm's back country for $345 per person.
For something more urban, try an ice driving experience in an Audi or BMW around a driving course for controlled dynamic driving with as many drifts and slalom experiences as you can handle. Based at the Southern Hemisphere Proving Grounds.
"It's a pretty unique driving experience and only the third season we've been doing it," says Snow Driving's Steve Gould.
Convince your boss it would be perfect for your next conference or join a pre-booking day. The next is around August 11. Half-day courses are $499 per person or $799 for full day experience.
Night skiing, bag jumping and sledding
Snow Park is all about free riding and trying out new things in a laidback environment. It also has on-mountain accommodation. Choose from old-fashioned sledding ($10 an hour) to bag jumping, landing in a huge air-filled bag for safe training. Night skiing is held every Tuesday, Thursday and Friday from 5pm to 9pm. The Woolshed Restaurant and Bar provides a warm break in between runs.
Ice climbing
Ice climbing isn't just for extreme athletes; it's also suitable for beginners with a moderate fitness level and a sense of adventure. Summits Mountain Guiding provides all the technical and safety equipment. The day starts around 8am and ends around 5pm, in time for happy hour. Rock climbers and alpine climbers looking for something more vertical also like the challenge of ice climbing. Owner Bruce Hasler says most clients are "skiers looking for a thrill and serenity away from the crowds". Two-day and week-long courses are also offered and prices start from $300 per person for the day.
Family-friendly accommodation
One of my bugbears when travelling with my children is how little thought many accommodation providers put into making their smallest guests feel welcome. Would it be so hard to invest in at least one child-friendly Sky channel? Or, how about a couple of bath toys?
Terrace Downs near Christchurch puts children first and has invested in new family suites, equipped with Sky Television, mountain view telescope, a home theatre system and iPod docking station, as well as a playroom just for the kids with wooden toys, lego, books, Disney DVDs, a PlayStation and board games.
"I have a 3-year-old boy so I know the challenges of family travel," says Dilan de Silva, general manager of Terrace Downs. "Our staff, including our private butlers, have received special training in working with families and making every member feel special."
Children under 12 eat free from a healthy kids' menu. Mt Hutt also offers free skiing for children 10 years and under.