Kangaroos, cassowaries and crocs entranced Estelle Sarney and family.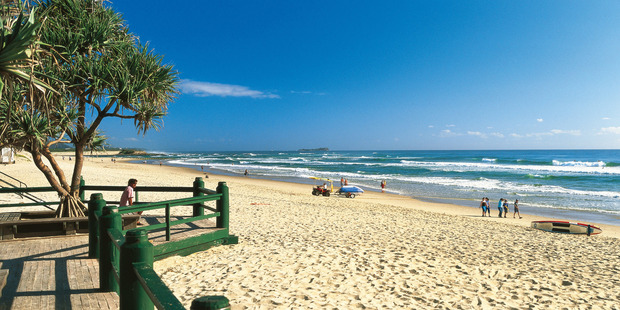 We spotted him by the ice dispenser, but hung back, not wanting to startle him. We kept watch through the tangle of people milling about the buffet, until the moment seemed right to approach. He was a fine specimen of that rare breed, an All Black, Richie McCaw, no less. We captured him in a photo in a lounge at Auckland Airport, posing with the kids, polite and charming.
Such chance encounters were a hallmark of our long weekend on the Sunshine Coast, just north of Brisbane. The next morning, on a Segway ride through the bush behind our resort, our guide Rod stopped us and pointed into the dappled undergrowth. Peering back at us were a mother kangaroo and her joey, standing still, waiting to see which direction we'd go. Rod had observed this joey since he first saw the mother with the baby in her pouch.
The bush is never far from the homes and resorts of the Sunshine Coast, so kangaroos and other creatures of the bush call this area home, too. Rod says yes, there are snakes - pythons, which are harmless; red-bellied blacks and browns, which are not - "but they tend to get out of the way."
Every sensible Australian knows that you don't go traipsing through the bush in "thongs" anyway, which is why a Segway tour like Rod's was a safe and fun way of experiencing it.
Within 10 minutes we all had the hang of driving the machines and their top speed of about 11km/h is faster than you'd want to go most places anyway if you're to see anything.
We did see a snake the next day, an albino Darwin carpet snake, twined around the shoulders of a woman at the Eumundi Markets, writhing in a constant fluid motion. For a gold-coin donation I could stroke it - its creamy gold skin felt like silk. Apparently they're very good at catching mice.
The markets are huge and eclectic and have a slightly hippy edge. We entered past a tent where painters were putting the finishing touches to almost-naked women in a body art show, then wound through alley after alley of clothing, jewellery, health products, art, food, drink and the occasional busker.
A swarthy man tried to sell us amber which he said was fossilised tree sap. He showed us the insects preserved inside. Around another corner, the locally made ginger beer was delicious.
At Australia Zoo, Steve Irwin's brainchild and legacy, you can't help but get up close and personal to wildlife. We stroked the soft hides of red kangaroos in an enclosure that was unattended, so trusting are the keepers of the animals and the tourists. Edna the koala nestled into the fork of a small eucalyptus, proffering her furry back for a pat. Sian the elephant lined up beside two companions to cheerfully scoop vegetable pieces from our hands with her trunk.
The zoo is a vast, shady oasis from the Queensland heat and still emanates Irwin's cheerful spirit. His face, and those of his family are everywhere, and info boards by the enclosures still bear the lingo that made his TV shows such a hit. Crocodiles are his "beautiful girls".
At the midday show, keepers carry on his enthusiastic approach to showing off the power of crocodiles and the grace and intelligence of birds and also impart a conservation message. It's an inspiring place.
On the way out, we walked past the dingo enclosure. One, resting in the shade, looked like a cross between a fox and house-dog, sweet enough to pat. Then something rustled and suddenly there were six of them, springing off in a pack, and we sensed how deadly they could be.
Along the last boardwalk, we came across the most unusual creature. A cassowary, with a name like something out of a children's story and as comically odd in appearance. It was about the size of an emu, with a tall, bony crown, a pale blue face and two turkey-like wattles swinging from its neck against its black, bristly body feathers. A sign warned us not to approach - that beak and those long-clawed feet were neither polite nor charming. This time we kept our distance.
FURTHER INFORMATION
Getting there: Air New Zealand starts flying direct from Auckland to the Sunshine Coast Airport near Maroochydore from July 1. Airfares start at $219 seat only, one way ex-Auckland. Connections available from other NZ cities, and with partner airline Virgin Australia via Sydney and Melbourne.
What to do:
Eumundi Markets: Saturdays and Wednesdays.
Estelle Sarney and family travelled to the Sunshine Coast courtesy of Air New Zealand.