Designer Karen Walker on the cool, calm charms of Tokyo.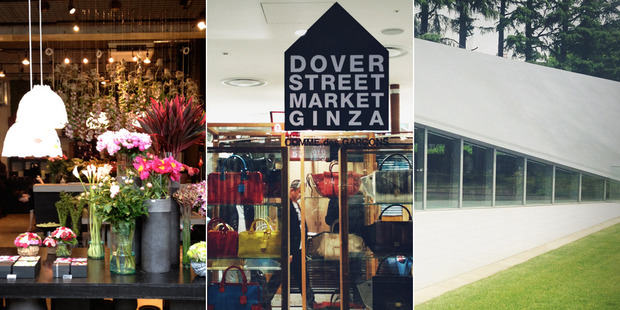 Tokyo never fails to surprise and delight. It's the perfect spot for a quick recharge of inspiration. It's a shopping and eating heaven and a city that's full of eye-popping surprises both large and small.
Though I adore the sheer scale of the place, it's the small things that again and again I find the most captivating: the taxi drivers' white gloves, lace-work seat coverings and self opening and closing doors; the small, tree-lined laneways of homes, shops and restaurants that cut back, forth and sideways in the spaces divided up by the major roads; the ingenious use of space that creates a sense of openness in one of the least open of cities and, of course, the loos which never fail to amaze first-time visitors - heated seats, automated tinkling sounds so no one in the vicinity can hear your own tinkling, etcetera.
But it's the serenity that's most unexpected in Tokyo. That a city of 13 million people can feel so calm, clean and cool always thrills me. I think it comes from the innate senses of respect and design that are at the centre of the Japanese culture, and it's what I love most of all about this city.
I was in town for the launch of the first of our eyewear travelling stores-within-store which opened at the gorgeous and totally impressive Restir (website in Japanese: 9-7-4 Akasaka, Minato-ku, + 81 3 54 13 3708) in Midtown.
After a day of press interviews in Restir's VIP room we hosted a party for two or three hundred of Tokyo's fashion movers and shakers. The following day I lunched with Japanese pop star Chara which was so nice as she's been wearing our things for years and it was great to finally meet her. I was also thrilled to be able to visit KWs new Tokyo HQ on this visit.
Our showroom has recently moved to a stunning building in a leafy backstreet in Aoyama. It was designed by legendary architect Tadao Ando and is a wonderful home for us in Japan.
We also had an in-store appearance at Beams in Shibuya, which was a lot of fun, before taking the bullet train (love!) to Nagoya for another in-store appearance at one of our favourite boutiques, Viastique. Also squeezed in there was some shopping and some very fine dining. All in all it wasn't a bad way to pass five days.
I've been visiting Japan more-or-less annually for about 15 years and we've had a showroom there for almost as long.
Our team there are like family to us and Tokyo feels like a home-away-from-home. Here are a few of my recent discoveries and old favourites in Tokyo.
Yakumo Saryo (website in Japanese) is a private, members-only restaurant that's heavenly. It's in the most unexpected of locations in a quiet, suburban street with a high, concrete wall overflowing with established trees surrounding it.
Through the small wooden gate one finds oneself in the most beautiful of gardens with a softly lit twisting path leading up to the beautiful house itself.
It's an old home that's been transformed into a restaurant with just two private dining rooms, one of which has floor to ceiling windows looking into the wall of greenery that is the garden.
The home retains the 30s Japanese feel of the building while having the most gentle of modern, minimalist hands applied; cream and woody and rounded rather than formulaic and hard.
I was treated to a 10-course degustation menu with matching wine and sake. Highlights were an entree of fried lotus root cake and a monk's plate of charcoal grilled aubergine.
What I loved most was that there were only four other diners - who you didn't see anyway - and no music. (The address and phone numbers aren't meant to be public but, at the risk of getting into trouble, here they are anyway: 3-4-7 Yakumo Meguro-Ku, 152-0023, + 81 3 5731 1630.)
The best way to experience Japanese fine dining I've ever had. A must.
The Ginza district is traditionally somewhere where only tourists and established money go but it's suddenly hip again thanks to the new Uniqlo flagship and the relocated Dover St Market.
Uniqlo (website in Japanese: 6-9-5 Ginza, Chuo-ku, Tokyo, + 81 3 6252 5181) is a Japanese mega-retailer with 1000 stores around the world and top-notch collaborations under their belt with the likes of Jil Sander and Undercover. The new Tokyo flagship is fantastic. It has 12 stories of chic, cool and modern retail where one can't help but buy something.
Across the road from Uniqlo is the newly relocated Dover Street Market (6-9-5 Ginza, Chuo-ku, + 81 3 6228 5080), Comme's Tokyo branch of their fabulous London mini-department store.
Worth a visit for anyone remotely into fashion, Dover Street Market manages to combine virtually all things Comme des Garcons with traditional high-end brands like Louis Vuitton and Yves Saint Laurent and the most exciting of the world's streetwear and indie brands.
It's also one of the better spots for a bite to eat at the always excellent Rose Bakery, located here on the seventh floor.
Foodwise also in Ginza is the Gucci cafe (4th floor, 4-4-10 Ginza, Chuo-ku, + 81 3 3562 8112) and the Chanel rooftop cafe/bar (3-5-3 ginza, Chuo-ku, + 81 3 5447 3079). They're actually quite fabulous. The Gucci cafe is a particularly elegant spot for lunch.
I always think it's best to eat Japanese food while in Tokyo as it doesn't get any better but for an architectural treat lunch or dinner dine at Canoviano Cafe (2-21-4 Ebisu-nishi, Shibuya-ku, + 81 3 5456 5681). The food's great but it's the building that's most notable. As with our Tokyo showroom it was designed by the legendary Tadao Ando and it was wonderful to see inside another of his buildings.
Omotesando Hills is well known for its megastores (Louis Vuitton, Dior, Ralph Lauren, et al) but the nicest store there right now is Celine (3-5-29 Kita Aoyama, Omotesando, Minato-Ku, + 81 3 5771 4801) for an elegant boutique experience.
The newest thing in this neighbourhood that's got Tokyo excited is a classic from our part of the world; everyone's favourite Sydney brunch spot, Bill's (7th floor, Tokyo Plaza, 4-30-3 Jingu-mae, Shibuya-ku, + 81 3 5772 1133) is opening all over Japan and they're loving him. Waiting time is over two hours so put your name down then hit the shops.
Aoyama is the best shopping neighbourhood in a city full of great shopping neighbourhoods. The big flagships for Comme des Garcons, Prada and the Marni boutique are must-sees but the little lanes behind the main streets are what makes Aoyama really great. Make sure you get to the Miu Miu store tucked away in one of these.
For a casual bite in this neighbourhood the cafe adjoining Nicolai Bergmann Flowers & Design is perfect for a Danish-style lunch.
While Shibuya's lost some of its shine of late it's still got a few stand-outs that make it worth a visit. My favourites are Margaret Howell (1-13-8 Jinnin-Shibuya-Ku) for great clothes and homewear put together in a lovely way. The cafe serves wonderful light lunches outside on the terrace. Also, Tomorrowland (1-23-16 Shibuya) for a modern take on the luxury (mini) department store.
If you're in this neighbourhood in the evening, have a quick and easy dinner at Rakushokushu Maru (basement, 5-50-8 Jingumae, Shibuya-ku) which combines a cute interior with sensational Japanese food and makes it a perfect spot to sit back and enjoy a sake at the end of your day.
For such a huge city that's so driven by aesthetic Tokyo has very few chic boutique hotels. In fact, I've only ever been able to find one: Claska (1-3-18 Chuo-cho, Meguro-ku, Tokyo, 152-0001, + 81 3 3719 8121).
Only two floors within the building are for hotel guests, the rest are for permanent residents and event spaces including a terrific roof garden. Still, with my usual room (401) there's no need for a roof garden as it has its own enormous and beautifully laid out Japanese terrace, at least 50 square metres which in Tokyo feels positively monstrous.
Add to that the fact that the room itself is also huge by local standards (even with two queen-size beds and a sitting area it feels spacious) and the overall effect is one of luxury and space.
Bizarrely the two queen-size beds are pushed together to create, well, I don't know what size you'd call it, but it's a pretty big bed. The interior of the room is beautiful: modern homely and very Japanese. The service is excellent - in the true Japanese tradition of okyaku-sama wa kamisama desu, or, the customer is God.