The annual Calgary Stampede is a journey into another world, writes Rob McFarland.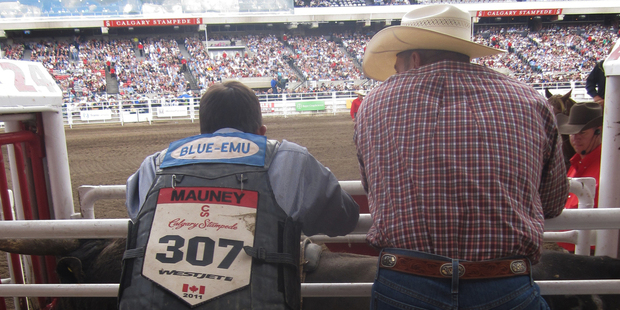 I'm two metres away from a man with one of the world's most dangerous jobs. A day in the office for 24-year-old JB Mauney involves hopping on the back of one tonne of muscle, hoofs and horns and trying to stay there for eight seconds. Then he has to get off without being trampled or gored to death.
To psyche himself up, he's hitting himself, hard and repeatedly, in the arms, legs and head. It's an unusual, but clearly effective, technique. He has won the event for the past two days running. I'm thinking of trying it the next time I'm about to go on a date.
The gate opens and Mauney and his ride, the ominously named D Bomb, catapult into the arena in a writhing blur. It's hard to know what is more incredible - that a bull of that size can buck and thrash so violently or that a man can hang on using only one hand. But he does, for the requisite eight seconds and scores a respectable 80.5 out of 100.
But it's taken its toll. He limps off the field, wincing and clutching his arm. I presume this means he'll have to retire but he's back on another bull the next day.
Different breed, these cowboys.
There are a lot of reasons to visit next month's Calgary Stampede, an annual 10-day rodeo that bills itself as the "Greatest Outdoor Show on Earth". There's a daily ice-skating show featuring two Olympic gold medallists, an extreme motocross display, more than 40 rides, a hypnotist, a high-dive show and a human cannonball.
For those with a cultural bent, an enormous art show features live artists' studios and an Indian village hosts , aboriginal art and dance performances by First Nations tribes.
Party animals will find a casino, beer tents and Nashville North, a marquee in which country music bands play to a sea of Stetsons late into the night.
And, of course, there's the nightly Grandstand Show which features a dazzling Cirque du Soleil-style acrobatic and dance performance called Volte followed by an impressive fireworks display.
But for me, the highlight is the reason the whole thing started in 1912 - the rodeo. Guy Weadick wanted to create a contest that would showcase the skills of the country's finest cowboys and cowgirls.
Many of the events in which they compete originated from ranching requirements. Bareback riding, saddle bronc riding (riding a bucking bronco) and tie-down roping (catching and tying up a calf) were all necessary skills. Others, such as bull riding and steer wrestling, have evolved as crowd pleasers.
Either way, to watch the world's best at close quarters is jaw-droppingly exciting. How long do you think it would take someone on horseback to chase a calf, lasso it, jump off his horse, flip the calf on to its back and tie its legs together? Thirty seconds? Fifteen? The winner at Calgary did it in seven seconds.
Of course, there's more than pride at stake. Stampede is the world's richest outdoor rodeo, boasting more than C$2 million (NZ$2.5 million) of prize money. The winner of each of the six major events pockets $100,000 and there are daily prizes, too.
What is refreshing to see is how much Calgarians embrace the event. Often, when a city hosts something on this scale, everyone leaves town, but thousands of locals volunteer at the show and staff the free breakfast pancake stands that pop up all over town.
The entire city takes on something of a carnival atmosphere and everyone sports their finest cowboy hats, checked shirts, jeans and boots. I was initially a little wary about leaving the hotel dressed like Woody from Toy Story, but you will feel left out if you don't.
My biggest mistake was allowing myself only a day to see everything. You need at least two.
This year is Stampede's 100th anniversary so it will undoubtedly be bigger and better than ever. New attractions will include the Outlaw roller coaster, Canada's longest temporary zip line and a special range of limited-edition centennial merchandise.
As for JB Mauney, he went into the bull riding final on Sunday as the favourite after winning C$16,000 during the week but was bucked off. However, the winner was Stampede first-timer Shane Proctor, who is his brother-in-law.
SADDLE UP
Getting there: Air New Zealand and Air Canada fly code-share from Auckland to Calgary via Los Angeles.
Where to stay: The all-suite International Hotel is in downtown Calgary within walking distance of many of the city's main attractions.
Visiting Stampede: This year's Stampede is from July 6-15. Rodeo tickets start at C$36 for adults and C$18 for children and include admission to the park. Family and multi-day packages are also available.
Further information: Next year's dates are July 5-14. See calgarystampede.com.
Rob McFarland was a guest of Travel Alberta.