They like to hang their artworks high in Spain's Cuenca, notes Nicola Lamb.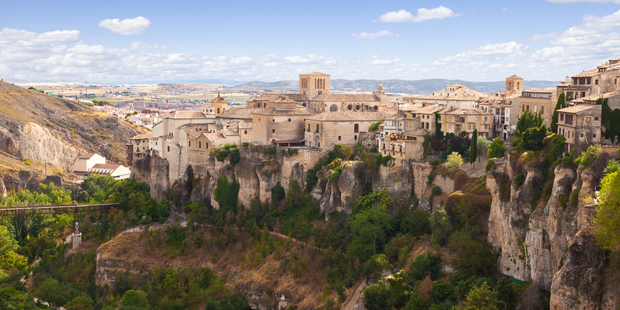 In the small Spanish city of Cuenca, the locals have their own perspective on things.
It may have something to do with the historic old centre's perch high above a gorge. They call some of their buildings "rascacielos" or skyscrapers because, at 35m tall and 12 storeys the buildings in the San Martin district were once the highest in Spain. Well, they were back in the 16th century.
The World Heritage City in the Castile-La Mancha region, 168km and about an hour by train from Madrid, is famous for its "casas colgadas" or hanging houses.
About 25 lean out slightly over the gorge, although as our guide says with a grin, it's not simply called a gorge, it's known as the Hoz del Huecar. There are even a dozen hanging toilets - tiny rooms gripping the outside walls of ancient houses like limpets.
As we walk through the stone streets and our guide explains its history, the 1000-year-old buildings glow caramel in the dusk.
Cuenca's origins date from the period of Muslim domination from 711AD. By the mid-12th century it was a village of 700 people. In 1177 Christians conquered Cuenca.
The Cathedral of Santa Maria de Gracia in Plaza Mayor was built on the site of an ancient mosque. It was finished in 1271, considered the oldest Gothic cathedral in Spain, and was restored last century.
On top of the hill, Muslims had built a castle which Christians destroyed. The site eventually became a prison and hundreds of people were thrown to their deaths from it. Between the 13th and 16th centuries, pine wood and woollen markets sustained the town. In the 17th century wool from England caused Cuenca to lose 90 per cent of its income over 10 years.
In the 16th century 16,000 people lived here. Now only 3000 do, with the rest of Cuenca's 58,000 population in the newer part.
Our guide says there's no heating, lifts, high schools or home parking for residents in the old area and temperatures drop to minus 10 degrees in winter. Nevertheless, it would cost more than $1.6 million to buy a property there.
In 1996 the old town achieved world heritage status and millions of euros from Unesco towards its upkeep. It's a lovely place to spend a couple of days. You can eat in one of the hanging houses, the Meson Casas Colgadas restaurant, and stay in the old town.
The old monastery, built in 1523, is now a hotel. Spain has a state-run chain of 86 such "paradors", former castles, monasteries, palaces and convents that are renovated inside. The Cuenca parador has a good restaurant where you could choose a main of salmon, fish, pork or the idiosyncratic "beef cheeks in his juice with cheese".
The only catch is that to reach the parador you must cross the rather creaky Puente de San Pablo footbridge high over the gorge. That had me thinking about movie scenes of Indiana Jones in a tight spot and trying not to look down.
In more recent times, Cuenca became an artists' retreat and there is an interesting display of art in one of the hanging houses, the Museo de Arte Abstracto Espanol. No doubt the town provided the artists with a different perspective.
CHECKLIST
Getting there: Singapore Airlines has 12 flights a week from Auckland and daily flights from Christchurch to Singapore, and then beyond to Barcelona direct with four flights a week departing on Monday, Tuesday, Thursday and Saturday; and an additional three flights a week via Milan on Monday, Thursday and Saturday. Special fares are now available, starting from $2439. Sales end on July 3, and the advertised fare is for travel departing between October 1 and November 30.
Where to stay: The Convento del Giraldo is in the old town.
Getting around: High-speed trains run from Madrid to Cuenca and on to Barcelona.
Further information: See spain.info.
Nicola Lamb travelled to Spain courtesy of Singapore Airlines, Spain Tourism and Rail Europe.