A New Caledonian island offers a rustic, unspoilt escape, discovers Nikki Birrell.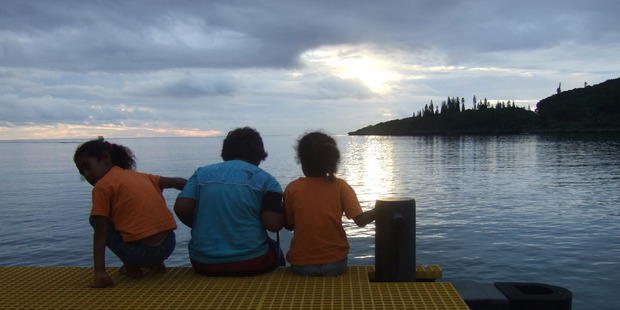 Local musicians sit at the dock of the bay as other Mare (pronounced Ma-ray) islanders gather around the shoreline in anticipation of the big arrival. The smell of barbecue permeates the warm air and, as the sun peeks out, the bright turquoise and deep blues of the surrounding waters are dazzling in their intensity.
What everybody is waiting for are the first tenders from the cruise ship, sitting out on the horizon in all its grand splendour, to come ashore. The buzz is palpable and with good reason. Mare, the southernmost of New Caledonia's Loyalty Islands, is brand new to tourism.
In 2009, P&O started talks with New Caledonia's tourism representatives and the grand chiefs of Mare's eight districts. It took many meetings before agreement was reached on the mutual benefits of bringing cruise passengers to this little patch of perfect. The first boat arrived just last month.
A new jetty at Tadine is adorned with flax decorations and a natural swimming pool has been roped off for those cruise passengers who can't wait to jump into the beckoning crystal clearness.
Further up the shore we meet some of the creators of that lovely smoky smell - vendors with handwritten signs selling fish kebabs and other grilled things.
We stop by one and hear a story about the rusty-coloured dog we can see lolling about - rather than jumping into the water to fetch sticks, this gal's only interested in coconuts. Really?
A coconut is chucked from a high rock and there she goes after it, her entire rear end wagging in excitement, leaping off the rock, swimming out to the coconut and dragging it on to a lower rock to tear the husk to shreds.
So many sensory pleasures, and that's just near the jetty. At the markets you'll come across one of the island's biggest foodie stars - avocados. They're huge, like papaya, and come in green and red. Later, at Yejele Beach, we try some - creamy, rich, delicious.
Yejele is the stretch of sand where the passengers come to spend the day soaking up the rays and heading out to the coral reefs to see what fish they can spot. I chase around some tiny blue ones and spy black-and-white striped ones hiding in the coral.
I'm happy to see the coral so healthy and colourful and alive - just another reminder that this island has not been marred by development or mass tourism.
And nor is that likely. There are restrictions on the numbers of boats that can visit Mare, which means the tourists who do come are in for an authentic treat.
This is no well-oiled tourist machine. It's a rustic, charming and richly cultural place I feel lucky to have experienced.
CHECKLIST
The Pacific Pearl will visit Mare as part of a nine-night Pacific Islands cruise, departing Auckland on June 15, 2013, priced from $989 a person quad share. During 2012, P&O Cruises also calls at Mare on 14 cruises from Sydney, including a 10-night cruise departing November 12, priced from $1279 a person quad share. For details contact a travel agent or P&O Cruises on 0800 780 716.
Further information: See newcaledonia.co.nz.
Nikki Birrell visited New Caledonia as a guest of P&O Cruises.