Jo Bates wanders off the tourist track to discover the real Palma de Mallorca.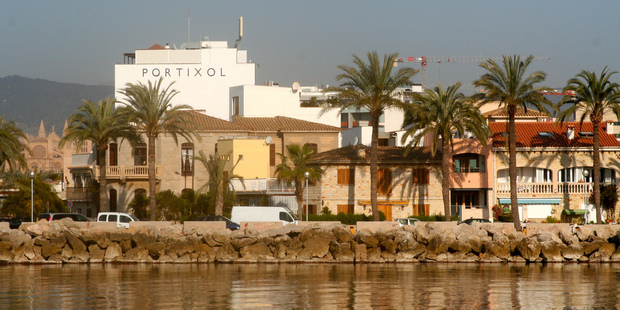 This winter just gone, it snowed in Palma de Mallorca - that hadn't happened in 50 years. Flakes fell on the beach, on palms and nestled on pink hibiscus flowers. It was the talk of the town and big news in the rest of Spain.
Only a few weeks later (winter is notoriously brief say the Mallorcans), spring gave way to a fresh blanket of white as field after field of almond trees shed their delicate, powdery petals. This second flurry of white heralded sublime weather as the days warmed and sunlight saturated the streets. From then on, it's only a short time before the sky brings another wave of change when planes leave frantic zigzags of jet streams and tourists pour down Palma's narrow, winding streets.
It's a little overwhelming for the locals who have had some respite and reclaimed their island for a stretch of time. Come peak season, Mallorca's population of around 780,000 swells to more than 5 million. The airport caters to in excess of 22 million visitors a year.
It doesn't take much to tell the locals and tourists apart. There's a level of sophistication to island life and there's not a fleece or sensible sandal in sight. If Mallorca offers a microcosm of Spanish life, it's the boutique version. The island, famous for its natural beauty and beaches, has long attracted artists, writers, thinkers, celebrities and the wealthy. Claudia Schiffer has a holiday home here, Jade Jagger and Kate Moss have been regular drop-ins over the years, and Tyler Brule, the mini media mogul who started Wallpaper before selling and moving on to open Monocle, has a base here. Camper, the footwear brand, started in Mallorca before going global.
After the influx of Germans, the Swiss are now buying up property and it's easy to understand why. The passion for life here is palpable. While any local will acknowledge that a fair chunk of this beautiful island has been sacrificed for development and tourist dollar, it's not suffering economically to quite the extent that the rest of Spain is in the current economic crisis. There's a lot of international money here.
Palma is the capital of the Balearic Islands, which includes Ibiza, Formentera and Minorca, and they are run as an autonomous community. There's a strong sense of pride in being Mallorcan - if street protests in Palma are anything to go by. The drums and whistles that are ubiquitous to both celebrations and protests were out in force recently as around 50,000 people took to the streets in defence of the local Catalan language.
As the strategic island, Mallorca has had its fair share of sieges - the Vandals ousted the Romans in 426, but within around 100 years the Byzantine Empire had secured a foothold. And on it went through the Moors and the Aragon Kingdom before becoming a nationalist stronghold during the Spanish Civil War.
Mallorca grew from the old town of Palma, a one-time Roman camp, with streets so narrow that no car panel in town is unscathed.
Winding and intriguing, the streets harbour a host of discoveries: historic sites, art galleries, boutiques, bakeries, bars and restaurants. You only have to veer off the tourist track to take the streets less travelled and explore what other visitors aren't. I spent days getting to know the old town; ducking into side streets to see what I could find, turning up in charming plazas, or in front of a Roman ruin. And that's part of the fun - not following any set route, just the direction that appeals.
If you want to set yourself up for the day, start it like a local, with a coffee and ensaimade; the rich pastry unique to Mallorca. They are so loved, you'll see them packaged as gifts to share with friends and family.
My highlights:
* Exploring the numerous streets and plazas surrounding Paseo del Borne. The boutiques around Carrer Pelaires are particularly seductive if you are into clothing.
* The waterfront stroll from Palma to Portixol, which is popular with joggers, cyclists and Sunday strollers. Break up the round trip with a cafe stop at Portixol.
* The cathedral and palace by night. Flooding them with light gives these historic landmarks their majestic 'wow' factor.
* Palau March Museu displays sculptures by Joan Miro, Henry Moore, Rodin and other important 20th century artists in this exceptional setting overlooking the centre of Palma at Fundacion Bartolome March (Palau Reial 18, Palma).
* Museo Fundacion Juan March has works by Spain's foremost artists of the European avant-garde movement, including Salvador Dali, Juan Gris and Julio Gonzalez. This is a former family home, which was built in the 17th century. Sant Miguel 11, Palma.
* Mercat de L'Olivar market has a gob-smacking selection of seafood, from giant prawns and small, tender squid to fish you've likely never seen before, such as sweet little salmonete. You can savour these delicacies with a glass of wine, served as tapas or raciones, at the market's bars. In the building next door you'll find fresh produce, deli and meat. Plaza de L'Olivar, Palma.
* Mother's Love (Plaza del Mercat, 3, Palma) is a low-key cafe by day, which transforms into a lively local hotspot at night, with great tapas, wine and the very popular 'gin tonic', served in fish-bowl-size glasses.
* Portixol Hotel and Restaurant is the idyllic lounge-y lunch spot or make-you-feel fabulous dinner destination.
* The Mallorcan wine was a discovery and both red and white are excellent quality. A favourite was Nou Nat, a bio-grow chardonnay blended with prensal, a local grape. It's available for around €10 at El Corte Inglés (Avenida de Jaime III, 15, Palma), which has a good selection of Mallorcan and Spanish wine.
* Fine Books (C/ Morey 7, just off Plaza Santa Eulalia, Palma) is owned by Rodney, an eccentric Englishman, who moved himself and 50,000-plus books here five years ago. The shop is spread over several floors and it's impossible not to draw a comparison with the British TV show Black Books.
* You'll enjoy captivating scenic beauty in Deia and Soller. Day trips by bus are cheap and easy - less than €3 and under an hour from the Palma bus station at Plaza Espana. Deia's physical beauty is renowned and has become famous for being author and poet Robert Graves home before he died. Soller is a charming, picturesque port village, hence its popularity with yachties and tourists.
Travel and accommodation:
* I used rumbo.com to book flights and hotels in Spain as I found it to be the best search engine - and it's available in English. Flights to Mallorca from Madrid and Barcelona cost less than €50 if booked a couple of weeks in advance. I wanted stay in the heart of historic Palma and just before peak season, a single room at Hotel Dalt Murada cost €89.
I got lucky with a room on the top floor that had a stunning view to the cathedral. Once a family home, it is still run by the Arellano family and is a heartbeat away from the cathedral and palace at Almudaina 6A, Palma 07001.
* Another option is Airbnb. It has an excellent selection of rooms and homes to rent in Palma and surrounds, some of which are shared with the owners - a great way to get inside knowledge on Mallorca.
Mallorca's Top 5:
Flight Centre's Cathy Peacock, used to live in Palma de Mallorca and shares her top tips on things to do:
1. La Lonja bar, in the old town area of Palma city, is the perfect place to enjoy a carrajillo (coffee with a shot of whisky) while watching the world go by.
2. Take the train to Soller, Deia and Valldemosa. It takes you up through the mountains, taking in all of the olive groves and countryside along the way. Soller is a little port town; Deia and Valldemosa are home to many of the rich and famous.
3. Head to Puerto Portals for lunch and some shopping, about a half hour drive from Palma. Call into Illetas beach for a swim on the way back, it's a beautiful cove with crystal-clear blue water.
4. San Pedro's restaurant, located on the hills behind Palma, is an amazing dining experience. I recommend having the P'am Boli while you enjoy a string quartet serenading you.
5. Formentor is at the northernmost tip of the island and full of jagged rocks, white sandy beaches and stunning blue water. Enjoy the breathtaking views out across the Mediterranean.
* For more information on travelling to Spain, contact Cathy and the team at Manurewa Flight Centre, 178 Great South Rd, ph (09) 269 5170 or 0800 262687.