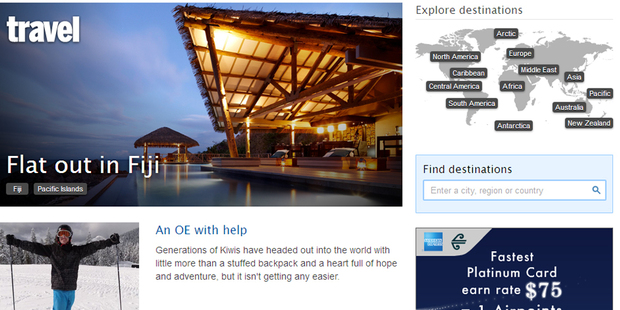 From today, you'll notice changes to our nzherald.co.nz travel pages as part of a redesign that we hope will make our online travel content easier for readers to navigate and search.
Key among the changes is the move to a destination-based categorisation system, so you can find travel articles pertaining to the place you're hoping to visit.
On the top, right hand side of the travel homepage, you will now find an interactive map highlighting a number of regions, each of which have relevant travel stories related to them. Once you've clicked into a regional homepage, you will be able to search further, exploring travel content by country and - in some cases - city and suburb.
We've also increased the size of the images on our travel pages and added a 'load more' button at the base of each homepage so you can find older content.
Every travel story page now also has two boxes about halfway down the right hand side displaying the online travel editor's picks and some of our best travel photo galleries.
Below that again, you will find our travel opinion section, which is where blogs and comment pieces related to travel issues sit.
Those who prefer to search more broadly than by destination alone still have that option. Popular travel categories such as 'Cruises' and 'Ask Lonely Planet' can be accessed via the drop-down menu which appears if you hover your mouse over the word Travel in the main navigation bar at the top of any nzherald.co.nz page.
We hope you enjoy the new layout and we welcome your feedback on the changes.
- Eveline Harvey, nzherald.co.nz travel editor