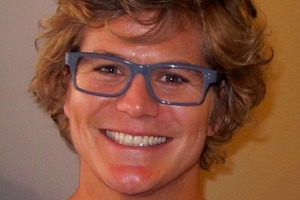 Do you travel light or heavy?
Lean and mean, three sections - working/partying/training.
Cattle or first class?
Always at the back of the plane. You meet the most interesting people there: oil tycoons, royalty, philanthropists and religious figures.
I can't travel without ...
A cheesy travel charm, usually in the form of a rock or a token from my awesome girl Rachel. I always come home safe so it seems to work.
Are you a planner or last minute packer?
Well I leave for Singapore in 48 hours and hadn't even thought about packing until I read this question ...
What's the best thing you've brought back from a trip?
I'm not much of a material person so it's always my memories and the gift of meeting amazing artists and designers I get to work with around the world.
Favourite or most exciting airport to land in?
Amsterdam - not for what you think. If you haven't been to Holland you have to go and see the land. It's spectacular and fertile all year-round.
Best packing tip?
Sleep on it.
Most memorable trip?
Paris. I love the people, passion, fashion and pastries.
What do you do while on the plane?
The funniest thing I've done on the plane was mile-high yoga. Some of the air stewards joined in too.
Simon Velvin is the director of design conference Semi-Permanent, which will be held from May 18-19.