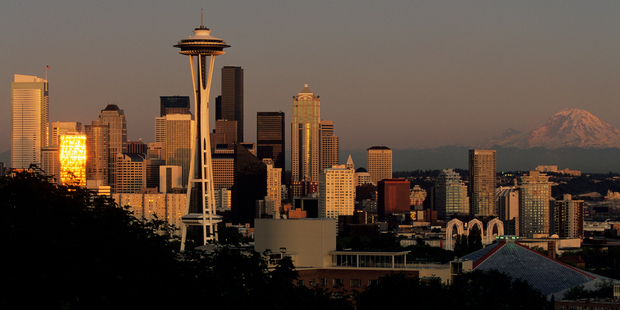 WHY GO NOW?
Last month marked 50 years of the iconic Space Needle, which opened on 21 April 1962 at the start of the Seattle World's Fair. Built as an architectural statement, this 184m tower has aged awkwardly. Its flying-saucer pinnacle is frozen in time - a 1960s vision of how the future might look. But its awkwardness makes it symbolic of a city that is gleefully idiosyncratic: a hard-working port that's full of culture and music. Seattle is also best explored now, as the rains that douse it in winter recede.
TOUCHDOWN
Seattle shares its air hub with neighbouring Tacoma. Sea-Tac Airport sits 10 miles south of the city centre. Air New Zealand flies to Seattle from Auckland via Vancouver or Melbourne and Los Angeles.
A taxi ride to Downtown takes about 20 minutes, for US$40 (NZ$49) - but the Central Link light railway is a cheaper transfer. Part of the Sound Transit network that also covers buses and trains in the metropolitan area, this easy option runs from the airport between 5am and midnight (6am and 11pm on Sundays), taking 40 minutes to drop you at central stations including Pioneer Square. Singles cost US$2.75.
GET YOUR BEARINGS
The most north-westerly city in the contiguous US, Seattle huddles just 113 kilometres south of the Canadian border. Although a port, it is separated from the Pacific coast by the forested bulk of the Olympic peninsula. But, despite this, the city is framed by water - the wide expanse of Elliott Bay to the west, the pretty pocket of Lake Union to the north, the weekend playground of Lake Washington lapping its affluent eastern flank.
The key portion of Seattle overlooks Elliott Bay, rising away from the water. The Central Link cuts south to north (singles in the centre are US$2), with buses (US$2.50) plugging the gaps - but the centre can be explored on foot.
The Seattle Convention and Visitors Bureau has an office at First Avenue and Pike Street and is open daily from 10am to 6pm.
For details on Washington state, see experiencewa.com.
Visitors can save money with the Seattle CityPASS, which is sold at the six attractions it covers (such as the Space Needle) for US$69 and is valid for nine days.
CHECK IN
A comfortable mid-range option is the Warwick Seattle Hotel at 401 Lenora Street, which has doubles from US$183, including breakfast.
Cocooned in the maw of Pike Place Market at 86 Pine Street, the Inn at the Market has doubles from US$274, room only - as well as fine views of Elliott Bay.
For those seeking something a little quieter, the Hyatt at Olive 8, on the east side of Downtown at 1635 Eighth Avenue, delivers wide-lobby calm. Doubles from US$256, room only.
DAY ONE
Take a hike
Begin in Pioneer Square, next to the bust of Chief Seattle, the 19th-century leader of the local Duwamish tribe, after whom the city was named. This is the spot where Seattle was founded in 1852, and it retains a liveliness in adjacent cafes such as Cafe Paloma, which sells lattes (Seattle is home to more than 70 roasters) for US$3 at 93 Yesler Way.
From here, test your legs against the gradient on which Downtown perches, striding north up First Avenue. But pause at 1212, where the Cherry Street Coffee House lurks on the site of Myers Music, the shop where one of Seattle's most famous sons, Jimi Hendrix, had his first guitar bought for him in 1959.
At the junction with University Street, turn left and take Harbor Steps down to Alaskan Way. This part of the waterfront is a nest of amusement arcades and cheap eateries, but Seattle Aquarium, at 1483, does a splendid job of showcasing the wildlife that resides in the chill swells of the Pacific Northwest. It is open daily from 9.30am-5pm, with tickets priced at US$20 and is on the CityPASS roster.
Window shopping
Directly opposite the aquarium, the steps of the Pike Place Hillclimb lead up into the maw of Pike Place Market, which straddles the four blocks between Virginia and Union Streets.
Here, Local Color, at 1606 Pike Place, is an emblem for an arty city that loves its coffee, selling work by Seattle painters alongside aromatic beans. A few doors down at 1532, Sotto Voce specialises in gloopy olive oils of many varieties.
At 92 Pike Street, Left Bank Books injects a note of studiousness with its thick biographies and second-hand tomes. And Beecher's Handmade Cheese sells all manner of enticing companions to crackers at 1600 Pike Place.
For those seeking mainstream chances to spend, the Westlake Center does the classic American mall experience at 400 Pine Street.
Lunch on the run
A market stalwart at 1517 Pike Place, Athenian revels in a menu heavy on seafood. Its Northwest sockeye salmon with mango salsa (US$17) is bettered only by its views of ferries inching across Elliott Bay.
A walk in the park
Forge north along Western Avenue until you hit the Olympic Sculpture Park. Pinned to the waterfront between Broad and Bay Streets (daily, sunrise to sunset; free), here is a grassy pocket where installations such as Alexander Calder's giant red steel Eagle are eyed by huge tankers idling in the bay.
An aperitif
Seattle is stuffed with watering holes - not least in gentrified Belltown. You can sup US$5 beers at Frontier Room, 2203 First Avenue - and at 2200 Second Avenue, where The Crocodile keeps its cool as a music bar where Nirvana once played. Skip up to 619 Pine Street, where Von's claims to make "Seattle's best martini" for US$3.50.
Dining with the locals
Carnivores should head to Icon Grill at 1935 Fifth Avenue for flat iron steak (US$23). There is competition from the Metropolitan Grill at 820 Second Avenue, where a wide range of steaks includes the 14oz prime top sirloin for US$40. Wild Ginger, 1401 Third Avenue, serves Asian cuisine - the Thai beef curry is US$18.50.
DAY TWO
Sunday morning: Go to church
St James Cathedral at 804 Ninth Avenue, in the south-east of Downtown, is a haven of piety in this often rock'n'roll city. Completed in 1907, its broad doors swing on to a calm interior of intricate mosaics and dark-blue stained glass. Sunday Mass is at 8am, 10am, noon and 5.30pm. Open 7am to 7pm Sundays, 7.30am to 6pm Monday to Saturday.
Out to brunch
East of Downtown, Capitol Hill is a riotous zone of bars and eateries that buzzes at night - but lunch is served with equal panache. The Other Coast Cafe, at 721 East Pike Street, serves a juicy roast beef sourdough sandwich for US$8.50.
Cultural afternoon
Operating from 608 First Avenue at Pioneer Square, the Underground Tour takes visitors below the streets to the ruins of the Seattle that was burned in the 'Great Fire' of 1889, and buried in the subsequent reconstruction. Three blocks are explorable, and tours leave on the hour, daily 10am to 7pm, for US$16.
Just up the hill at 1300 First Avenue, the Seattle Art Museum is the city's high brow; US$15. Open 10am to 5pm on Wednesdays and weekends, and 10am to 9pm on Thursdays and Fridays (closed Monday and Tuesday), it offers a sweep of styles: Korean sculptor Do-Ho Suh's Some/One, where 40,000 dog tags are conjoined as a metaphor for the subjugation of self in the military; Jackson Pollock's 1947 Sea Change; 19th-century watercolours depicting the young US.
Take a ride
Another World's Fair relic, the Seattle Monorail runs every 10 minutes (Sunday 8.30am to 9pm; Monday to Thursday 7.30am to 9pm; Friday 7.30am to 11pm; Saturday 8.30am to 11pm) from the Westlake Center. It covers the mile to the Seattle Center in three minutes (US$2.25). Here, the Experience Music Project at 325 Fifth Avenue North (daily 10am to 5pm; US$18) cements Seattle's rep as a sonic city with exhibitions on great acts in an outlandish metal structure by Frank Gehry.
The icing on the cake
Next door, the Space Needle provides glorious city-wide panoramas that transcend tourist cliche. Lifts to the observation deck cost US$19 and operate Sunday 9.30am to 9.30pm, Monday to Thursday 10am to 9pm and Friday and Saturday 9.30am-10.30pm.
- INDEPENDENT