Nothing seems to change here, which is how it should be, says Cate Foster.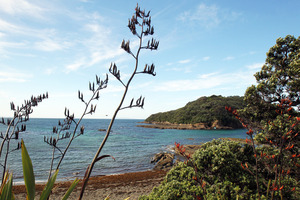 For somewhere so close to Auckland, the little coastal township of Leigh retains a curiously untouched air. Somehow, despite the recent brouhaha and development down the road at its near neighbour, Matakana, Leigh stays staunch. Houses are unpretentious and the store still feels like a country dairy. Most of all, the wharf and the steep little road that leads to it doesn't feel any different from the ones that I remember from my childhood in the 60s.
So, with a passing friend from London in tow and no more than an afternoon to spend I decided to head north. My friend had expressed a wish to see New Zealand as it used to be and Leigh seemed to fit the bill. Heading north from Auckland was a breeze, thanks to the new tolled motorway.
We hadn't even drawn breath, it seemed, before we were in Warkworth, where we stopped at what has to be my favourite cafe in that part of the world, Chocolate Brown. Perhaps because it's tucked away off the main street this cafe feels like a real local hangout, but whatever it is I always enjoy it and the coffee is real fine (said with a Southern drawl).
So too was the grilled vege omelette I had, and my friend from London, where good coffee is still a treat, was blown away.
Back on the road to Leigh we passed the (closed on Sunday) market area in Matakana and marvelled how quickly this has become an established part of the scenery.
We debated about timing our return to include a movie but decided there was too much to do and too little time.
Leigh was as it always is. Basking in a rare afternoon of late summer sun, it didn't surprise me that nothing appeared to have changed, nothing does change in Leigh and that's the way I like it.
We parked the car and set off to explore. First we visited the little cemetery at the end of Harbour View Rd. Here early settlers from the mid-19th century, as well as more recent locals, sleep under pohutukawa. Glorious views over Omaha Harbour towards the Barrier islands, serenaded by the cicadas' neverending anthem to summer, somehow comfort the soul as much as please the eye.
Retracing our steps, we walked down Hauraki Rd to watch the people fishing from the wharf. Once there, we decided a visit to this utterly charming little spot just wouldn't be complete without a bush walk, so heading down the boat ramp to the left of the wharf we walked a few minutes to the head of the harbour (Omaha Cove is its real name).
This was a favourite spot for the early missionaries to rest on their coastal journeys and the Rev Henry Williams drew it, complete with his little sailing ship at anchor, in 1831. We continued over the footbridge and along the pathway that leads around the headland.
This area is called the Leigh Scenic Reserve. Pohutukawa line the shore and the native bush harbours kereru and fantails. Beautiful harbour views popped out between the trees and it seemed like miles from anywhere.
The walk took about an hour and by the time we got back to the car we both were ready for refreshments. A movie or a pinot gris?
A peaceful glass by the river on the terrace of the Matakana Market Kitchen won and we returned to Auckland relaxed and refreshed from our undemanding jaunt.
Fresh air, lovely views and exercise to boot, what more could you want from a Sunday afternoon?
ESSENTIAL INFORMATION
Driving time 70 minutes from Auckland CBD

Walking track No6: About one hour return.
Chocolate Brown Cafe: 6 Mill Lane, Warkworth, Ph 09 422 2677.
Matakana Cinema: 2 Matakana Valley Rd, Ph 09 422 9833.
Matakana Market Kitchen: 2 Matakana Valley Rd (under the Matakana Cinema complex), Ph 09 423 0383.