Rotorua's wild rides and lively pubs make for a great hen party, writes Shandelle Battersby.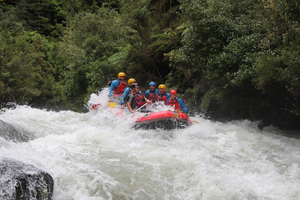 It doesn't really take much to make a gaggle of girls on a hen party weekend happy. Good food and wine. Plenty of opportunity to natter. A bit of pampering and nice accommodation. And in our case, some white-knuckled adventure on the Rangitaiki River with Wet'n'Wild Rafting.
Yes, we don't see why the blokes get to have all the fun on their last weekend of freedom before tying the knot. Or, in the case of one groom-to-be, rafting guide Peter Brown told us, not much fun or freedom at all thanks to an actual ball and chain his mates shackled to his ankle.
Not really a great idea, Brown explained to the poor sucker, when Grade 2 to 4 rapids populate the 14km of river ahead and you face a reasonable chance of falling out - especially if you're the guest of honour and the cheeky guides decide you deserve a dunking.
Today, though, we manage to stay onboard and (mostly) dry during our two-hour journey down the river, which offered plenty of thrills but also chances to relax and enjoy the beautiful scenery and wildlife, while learning a little about the area's history from the informative guides.
After an afternoon battling the rapids it was a real treat to get back to our accommodation at the peaceful Wai Ora Lakeside Resort on the eastern side of Lake Rotorua.
There we soaked in their heated mineral pool, followed by a glass of French champers, a platter of canapes, and a combination of two spa therapies while we planned our next move.
This is part of the resort's Hens' Party Package which covers one night's accommodation, a meal at their in-house restaurant Mokoia, breakfast and airport transfers.
From the resort it's just a quick trip into the city for our hen party night of dinner, drinks and dancing.
The Mexican, with its kitschy Day of the Dead decor, is a fun restaurant with a great menu (try the jalapeno chilli cheese bites - crispy parcels of tasty cheese with a fiery kick), extensive cocktail list and big range of tequilas to really get the party started.
If you want to get the bride-to-be fired up, order her a Cave Creek Chili Beer - a strangely spicy Mexican lager made all the hotter because of the 2-inch pepper tucked down its neck.
And if she's not suffering too much the next morning, for one last madcap antic on the way out of town, make a stop at OGO Rotorua. This is one of those get-in-the-giant-inflatable-ball-and-get-tossed-around rides which you can do with other people.
We tried the H2OGO where 40 litres of warm water are added to the ball and you're sent down a 250m-long strip of grass.
The best thing to do is to stay on your feet and run down, said one of the crew after instructing me to dive into the ball headfirst.
But as it took off I promptly fell on my butt and there I stayed during the short and thrilling ride, sloshing around as you would on a hydroslide.
Great fun, but perhaps best avoided if you're feeling a little the worse for wear.
You definitely wouldn't want to be throwing up in that thing...
CHECKLIST
Where to stay: Wai Ora Lakeside Spa Resort is at Holdens Bay, Rotorua.
Where to eat: The Mexican is at 1176 Pukaki St, Rotorua.
What to do: Try Wet 'n' Wild Rafting or OGO Rotorua.
Further information: See rotoruanz.com.
Shandelle Battersby partied in Rotorua as a guest of Destination Rotorua.