Actress Shavaughn Ruakere shares her favourite spot.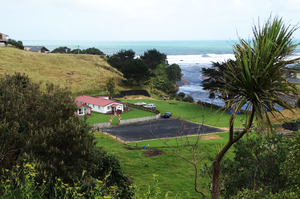 My happy place is Oakura pa. It's in Taranaki, about 10 minutes outside of New Plymouth, where I grew up. We started going there for family holidays when I was about 13. It was always open to everyone - aunties, uncles, cousins, friends, friends-of-friends...
It's right next to the Oakura River and pretty much at the mouth of the ocean as well. It's very relaxed. We go swimming in the river, play French cricket and touch, there are walks up the hill to the Four Square to get bread-and-milk, bread-and-milk, bread-and-milk (you always need more), and icecreams. We might go down to the beach in the evening, and someone will be on the guitar, playing tunes.
The pa feels like my spiritual home. It's something about the land there that I feel very drawn to, and it's just about bloody good times with my family. We always go in January, for one to two weeks.
The last weekend of the holiday we have a big day on the Saturday, which heaps of people come out to. The first thing we do is have our annual cricket match up at the school, because my Dad is mad about cricket. We'll have a big hangi that night, or sometimes a barbecue.
And then we have a family concert.
I'm normally pretty involved in the concert. Because of What Now I'm like the Pied Piper for the kids at the pa. I'm like Entertainment Captain.
My Dad is all about the happy hour, which seems to get earlier every year. My Mum rules the kitchen. She's awesome. There's a lot of eating that goes on. When you go to the pa you have to accept you're going to put on two or three kilograms.
I don't cook, but I have one signature dish I do - ambrosia. It's a pudding, and probably the reason I make it is it doesn't require any skill. It's yoghurt with whipped cream, berries and marshmallows. My secret weapon is scorched almonds. It's my pride and joy, and everyone knows it's coming because I go on and on about it. But one year Shavaughn put salt in the ambrosia instead of sugar ... They've never let me live it down. The same stories get told every year, without fail, and that's one of them.
The pa really is my one special place in the world. It does make the heart heave a bit being there - I really love it.
- as told to Bronwyn Sell
* Shavaughn Ruakere plays Nurse Roimata Ngatai on Shortland Street, weekends at 7pm on TV2.