Kids and adults alike will delight in this glimpse into Harry Potter's world, writes Amy Laughinghouse.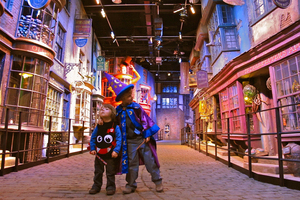 I'm whizzing over the Thames, the wind in my face, so close I can dip my hands in the water. Then suddenly, I'm soaring heavenwards, only to rocket back to earth moments later, dodging cars and buses on London's busy streets. Oh, and did I mention, I'm riding a broom?
Boarding a bouncing broomstick in front of a special effects green screen is just one of the hands-on attractions at the new "Warner Bros. Studio Tour London: The Making of Harry Potter" experience, which officially opens on March 31 in Leavesden, a 20 minute train ride northwest of London.
But, unlike the The Wizarding World of Harry Potter in Orlando, Florida, the British tour doesn't feature theme park rides. Rather, it's a tour of the actual 150,000sq foot studio where many scenes from the eight Harry Potter movies were shot, chock-a-block with sets, costumes and props.
The tour begins with a brief film featuring behind-the-scenes footage from the movie franchise (picture lots of birthday cakes and hugs), narrated by Daniel Radcliffe, Emma Watson and Rupert Grint.
As the trio gather to step through the massive doors of Hogwarts, beckoning audience members to follow, the silver screen suddenly lifts to reveal ... those very doors. Cue gasps and squeals - and not just from the children.
With the help of volunteers from the audience, a "tour interactor" - as guides are called - thrusts open the doors and ushers visitors into the soaring Great Hall. It's a "wow"-worthy moment, striding across the York stone floor dusted by Dumbledore's robes, examining the long wooden tables aged with chains and axes, and gazing at costumes displayed beneath figures of winged dragons.
Our faces probably express the same wonderment as young Harry when he first trod on these flagstones.
"In fact," says interactor Alex Bowman, "the moment you see in the film, when Harry arrives at Hogwarts and enters the Great Hall, that actually was the first time the children saw it. The director wanted to capture their reaction."
It's only the first of many little revelations imparted by the interactors and by videotaped commentary by cast and crew that make this self-guided tour so intriguing.
Stepping out of the Great Hall and into a vast hangar filled with a dozen or so more sets, I wind my way past the towering Hogwarts Gates to the "bedroom" where Harry and his friends slept.
The wooden beds, draped with red velvet curtains, seem absurdly small, and indeed, the actors did outgrow them over the years.
"So the boys either curled up their legs, or they would shoot so you couldn't see their legs sticking out from the end of the bed," explains Leanne MacPhail, a young actress who says she has become a more avid fan of the films since she started working as a tour interactor.
"Some people thought it might ruin the magic, when you see how it's done," she explains, "but seeing the passion that went into it, all the small details, makes me even more passionate about it."
Those details range from the threadbare rugs and sofas meant to look as though they had existed for centuries in the Gryffindor Common Room to the dimly-lit Potions Classroom, where 500 dusty bottles lining the shelves are each filled with a unique assortment of baked bones, leaves, herbs, and plastic animals purchased at a zoo gift shop and altered beyond recognition. My favourite? "Bouncing Spider Juice".
The tour is meant to take three hours, but fans may find themselves lingering much longer over sets like Dumbledore's office (where you can spot the gleaming gold "memory cabinet" and silver Pensieve), Hagrid's humble hut, Professor Umbridge's office, or the Weasleys' homely kitchen with its hands-free "magic" iron, chef's knife and knitting needles, all of which visitors can operate remotely by pointing a laser-like wand.
Several touch-screen versions of the Marauder's Map also allow punters to take control, navigating the map by tapping areas of interest around Hogwarts, from the Whomping Willow to the Quidditch pitch. Nearby, glass cases display items like the Horcruxes that held pieces of Voldemort's soul, the Golden Egg, and the Triwizard Cup.
Various modes of transportation, including Hagrid's motorbike and brooms attached to motorised rigs are showcased further on, past the imposing Chamber of Secrets Door, with its Octopus-like motif.
Exiting the hangar, I find myself outside amid larger set pieces, including a recreation of Privet Drive, the triple-decker Knight Bus, and the wooden Hogwarts Bridge, alongside a little stand selling Butterbeer and long picnic tables where you can take a break before continuing the tour.
In the Creature Shop, I marvel at the frighteningly life-like goblins' heads on the shelves, the animatronic model of a Hippogriff that nods obligingly as I pass, and the terrifying spider Aragog, with its 18-foot leg span, which was hand-fitted with hemp, sisal and yak fur. One display features buttons you can press to bring a wriggling mandrake out of its pot or make a fetal Voldemort stretch and breathe, while a teeth-gnashing book darts at the glass.
For me, the most magical experience is stepping into Diagon Alley, a crooked, cobble-stoned passageway flanked by whimsical shops like Weasleys' Wizard Wheezes, Ollivander's (Makers of Fine Wands Since 383 BC) and Madam Malkin's, advertising fang brushes, talon clippers and baby pygmy puffs. Each storefront is so detailed, I feel as though I'm strolling down an actual London street, albeit after a few too many pints of spiked Butterbeer.
The grand finale, however, is an enormous two-story model of Hogwarts, set in its own cavernous room.
Serenaded by the strains of a dramatic musical score, I descend a sloping ramp that wraps around the castle as the lighting cycles from day to night. When twilight descends, hundreds of twinkling lamps fill the spires.
"You see, when the lights go on, they're just about to read the children their bedtime stories," says visitor Mike Jourdan, as he scoops up three-year-old son, Zac, dressed in an Aragog spider costume.
For millions of children like Zac, this tour will bring J.K. Rowling's bewitching bedtime stories to life. Sweet dreams ... if you can avoid Voldemort.
CHECKLIST
Getting there: To get to the studio, you can take a train from London to Watford Junction (book tickets online) then board a special Harry Potter bus which runs every 30 minutes from Watford Junction for the 15-minute drive to the studio which costs £2 for the round-trip. See mullanysbuses.com.
Studio Tour: Warner Bros Studio Tour London: The Making of Harry Potter opens this Saturday. All tickets must be pre-booked online. Prices are £28 adults, £21 children, family £83.
Further information: See visitengland.com.
Amy Laughinghouse made her own way to The Making of Harry Potter.