Tony Rae, Team New Zealand sailor, racing in the Volvo Ocean Race.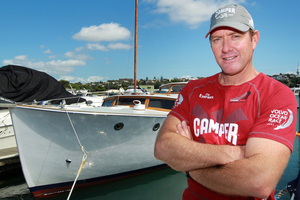 When I get time off, my happy place is on my old boat on a quiet bay at the bottom end of Waiheke Island. Just being away for a night or a weekend, anchored in a bay with no one else in it, out of the wind, is about as good as it gets.
It's a 54-year-old classic wooden launch that my grandfather built, a 33ft Roy Parris design. They built it together in a shed down at St Marys Bay, and my grandmother named it Pleasure Lady.
I go out with my family - my wife and two girls, who are 19 and 16 now. Our favourite bay is Garden Cove, which is pretty special. It has a very, very small entrance and once you're in you can only fit about three or four boats.
We've had times down there on our own, and it's just a sandy beach with a rope swing on a tree and some sheep. We talk to each other, play board games, listen to some music, or do whatever. We take the guitar with us. It's pretty cool.
I used to go away on the boat until I was about three years old, and then my grandfather sold it. I found it again in Tauranga about 11 years ago. Nearly nine months later the guy rang me and said, "I'm going to sell it, and thought I'd better let you know before I put it on the market".
At first I didn't want to buy it. Then my father and I thought it'd be good to get it back in the family and restore it. And that's what we've done.
My dad uses it a lot when I'm away, which is nice to know. My parents had their engagement party on it and they took it away when they were in their 20s.
We have all the old photos of me on board when I was a baby. We were on it the other night and Mum was playing the ukelele, which is what she was doing when she was in her 20s on the same boat.
It's always a lot of fun to be on board. It's a different experience from when you're racing and it's full-on. When we're getting pummelled by waves in the middle of the night and crashing around, I'll talk about how nice it would be to be tucked up in a bay right now on the boat.
But when I do get to go out on it, I appreciate it a lot more. It's a really special thing to do.
- as told to Bronwyn Sell
* The next leg of the nine-month Volvo Ocean Race is expected to start from the inner Waitemata Harbour at 2pm today. Departure ceremony begins at 12.40pm.