P. K. Stowers climbs onto an electric bicycle for a guided tour uncovering the secrets of Paris.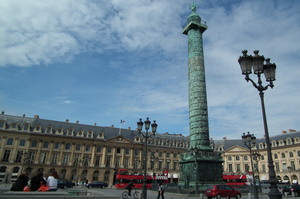 The idea of a guided bicycle tour of Paris to see little known historic sites sounded exciting. But there were a couple of concerns.
Firstly, don't Parisian drivers have the reputation of being somewhat, er, murderous?
"Yes, but don't worry," said our exuberant guide Olivier Marie-Antoine, "Paris traffic will only pick off the stragglers - so it's best to stay in a bunch."
Stragglers, yes. That was the second worry. Many of our small tour group hadn't been on a bike since high school and a few hours in the saddle might prove too much. What if we couldn't keep up?
"The bikes are electric," said Olivier. "You do have to do a bit of pedalling, but the motor does most of the work for you."
And so it proved. On a warm spring morning in Paris, our small group was soon darting down narrow cobblestoned alleyways and lanes following our intrepid guide from one intriguing historic site to the next.
When the time came to venture into busier roads and more demanding intersections, Olivier proved fearless, simply raising his hand to halt the approaching vehicles traffic-officer style.
During our time in Paris we had already learnt that stop signs and traffic lights were treated by drivers as merely a guide, so the first time we saw this we all expected the worst. But amazingly, the cars slowed and allowed us to pass.
"Like I said," smiled our guide, "it's best to stay in a group."
The bikes themselves are marvels of technology and design. By using the 9kg lead-gel battery and ceramic magnet electric motor, the rider can climb quite steep hills with the minimum of effort.
The motor makes virtually no noise, emits no pollutants, kicks in the moment you start pedalling and doesn't stop until you brake or reach 23km/h. And they're a great way to see the Paris.
Five years after he started showing visitors round on two-wheels, Marie-Antoine has a staff of ten and 70 bikes.
His company, Paris Charms and Secrets, runs two four-hour tours a day and a three-hour night-time tour that starts at 8pm. Each tour is available with English, French and Spanish-speaking guides.
His enthusiasm for describing the charms of his city is infectious, whether he is explaining architecture or artworks, and the four-hour tour goes by quickly.
Many of the points of interest on the tour are not open to the general public, and others are way off the tourist routes, which makes you feel like you are experiencing something quite special.
Things like:
* The monastery of the Congregation of the Holy Spirit in St Germaine is not open to the public, but features one of the few baroque chapels in Paris left untouched by the French revolution. Apparently it was saved from destruction after raiders were taken downstairs to the wine cellar first - where they promptly got drunk and forgot what they were there for.
* Located in what is now the Latin Quarter, the 2000-year-old Roman amphitheatre, Arènes de Lutèce, once seated 15,000 people and was used for gladiatorial combats. Although only the lower layer remains, it would once have towered to more than twice the height of the buildings that now surround it. It lay undiscovered until around 140 years ago when it was found by chance. The move to uncover and restore the arena was originally spearheaded by author Victor Hugo.
* Designed by renowned French architect Jacques-Rene Hermant and built in 1912 as the worldwide headquarters for the Societe Generale bank, the Central Agency building is a wonder of Art Nouveau construction. The enormous glass roof gives the entrance lobby the feel of a Victorian railway station. But spared a lifetime of steam and smoke, the ceiling's intricate glass and metalwork still dazzles.
CHECKLIST
Getting there: Budget airline Air Asia X has suspended its service out of Christchurch at the end of May but you will still be able to catch its low-cost flights to Paris, via Kuala Lumpur, from Sydney or Melbourne.
Getting around: Holiday packages for France can be booked through Tempo Holidays. See also the Paris Charms and Secrets website.
P. K. Stowers travelled to Paris with assistance from AirAsia X and Tempo Holidays.