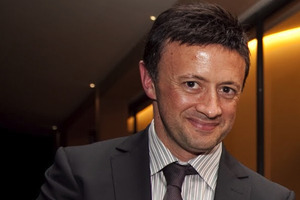 Do you travel light or heavy?
I usually try to pack light but watch trade fairs are always in the European winter, so you always need a few extra layers.
Cattle or first class?
Business class for long haul, especially when I need to get off a flight and go straight to work. It's a different story on holiday.
What type of suitcase do you carry?
One that is far too heavy after a trip to Europe. At the trade fairs we get showered with gifts, including lots of Swiss chocolate. Even though the world is going digital, I can never pass up a beautiful catalogue.
What's always in your hand luggage?
I've learnt to carry a suit and shirt/tie for my first appointment, just in case the inevitable happens and your luggage goes astray. It happened to me in Geneva. I had an important meeting and the only thing I could buy on a Sunday was a very expensive pair of jeans and a shirt from the airport.
What's the best thing you've brought back from a trip?
During our visit to the Basel fairs we make lots of new contacts in both the jewellery and watch sectors, and sometimes come across that extra special coloured stone, or diamond you just can't believe. We usually buy with a client in mind and call them when it arrives - which always makes someone very happy.
Favourite or most exciting airport to land in?
Auckland. After a European trip, it's always a treat to find the airport clean, not too many people around and familiar signage - great to be home again.
Most memorable trip?
We took 20 of our clients from New Zealand to Geneva, to visit the Patek Philippe Manufacture. Our group had an amazing experience, learning all about high complication timepieces. We managed to eat our way around Geneva, as we were served 55 different courses over four days.
What do you do while on the plane?
Sleep and watch movies. It's great to catch up on films, as I don't get time these days to go to the cinema.
Glenn Peachy is the international luxury watch buyer for Partridge Jewellers.