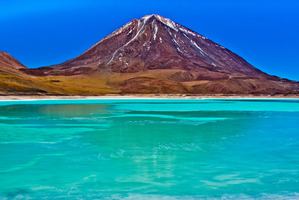 My husband and I are travelling to South America. Is it possible to take a day trip to Laguna Verde, Bolivia, from San Pedro de Atacama, Chile? I just want to see the lake. We don't want to go all the way to Potosi and to La Paz.
- Yasmin
Lonely Planet's Sarah Bennett and Lee Slater write:
Bolivia's remote southwest is a surreal, nearly treeless landscape near Chile's border. Punctuated by gentle hills and volcanoes, it has many startlingly beautiful sights, including Laguna Verde with its aquamarine waters and dramatic, conical backdrop of Volcan Licancabur. It's so otherworldly that Nasa boffins have used it as an analog for what may (or may not) be transpiring on Mars.
Fortunately for you, reaching the lagoon is a lot easier than interplanetary travel, and you can indeed visit it in one day. From San Pedro de Atacama, or SPA as it's known, you have a couple of options. With your own transport, you can go there via the border crossing at Hito Cajon, about an hour's drive.
Remember to sort your immigration paperwork in SPA before you set off.
Your other option is to take a tour. There are plenty of operators in SPA. A good place to find one is at the Oficina de Informacion Turistica in town. The quality of guides varies drastically, so read the book of complaints in the tourism office before making a decision.
The authors of our South America on a Shoestring guidebook found that Cactus Tour, Atacama Connection and Cosmo Andino had the least blemished reputations.
Lonely Planet's Thorn Tree forum is another good resource for up-to-date information, as are the opinions of fellow travellers who have been to the region before you.
If you have the time, you may want to take a longer 4WD tour into Bolivia. A popular option is the three-day journey that takes in the world's largest salt flat - Salar de Uyuni - spurting geysers at Sol de Manana, the adobe-red Laguna Colorada and Laguna Verde.
Take my breath away
I want to know how I can best surprise my girlfriend in Thailand's Chiang Mai?
- Bryce Morgan
The old city of Chiang Mai is a neat square bounded by a moat and remnants of a medieval-style wall built 700 years ago to fend off Burmese invaders. Today, a furious stream of traffic races around it but, inside, a series of narrow soi (side streets) lead to a more serene world of family-run guesthouses, leafy gardens and friendly smiles. It's a great place to kick back and relax, or from which to embark on more energetic adventures.
If your girlfriend enjoys walking, Chiang Mai is an easy place to arrange a hillside trek. It's also one of the most popular, so competition is fierce. Tours normally consist of groups of young travellers, but if you're willing to dip deeper into your pockets you could take a more romantic trip with just the two of you plus your guide. Pre-booking such a trip isn't recommended as your chances of being ripped off are high. Research your options before you leave, then check out local operators when you arrive.
Should you want something a little more sedate, Chiang Mai is a vibrant classroom in which to study the Thai language, cooking, meditation and massage.
Cooking classes are as bountiful as the produce in the bustling local markets; day-long courses cost from around 900 baht (NZ$34) and include all your ingredients and a recipe booklet.
We've received good feedback about two schools: Baan Thai in the heart of Chiang Mai and the Thai Farm Cooking School, 17km away on an organic farm in the countryside.
A spicy, aromatic meal, followed by a therapeutic massage, should make for a wonderfully romantic day out but, if things go pear-shaped, try to steer your belle clear of the Muay Thai (Thai boxing) schools that are dotted around the city.
WIN A LONELY PLANET GUIDEBOOK
Email your questions to travel.info@lonelyplanet.com and they'll be answered by Lonely Planet's experts.
In addition, the best question each week will earn a Lonely Planet guidebook. Add your postal address and the guidebook you'd like (see lonelyplanet.com).
Not all questions are answered and Lonely Planet cannot correspond directly with readers.