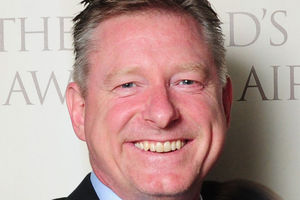 Do you travel light or heavy?
As it's usually a mix of business and pleasure, it tends to be heavy to cover all the bases.
Cattle or first class?
The back. Airlines like Singapore offer very good economy service and if the flight is a bit empty then it's a real bonus.
I can't travel without ...
My new noise-cancelling headphones. They add another dimension to entertainment on long-haul flights.
Are you a planner or last-minute packer?
Last minute. I always use the same list to pack so I always know if I have everything on that list, so can't get it too wrong.
What's the best thing you've brought back from a trip?
Lots of amazing memories. Up to 46 countries and still counting. If you're a first-time traveller take the time to join any frequent flyer reward schemes.
I figured that out too late.
Favourite or most exciting airport to land in?
Bora Bora, Tahiti on my honeymoon. Although I think the airport may have been secondary!
Best packing tip?
Use the same list to pack to. It makes the trip to the airport less stressful.
Most memorable trip?
Cruising the Nile, sunset on the Grand Canyon, Paris by night or a terrifying storm on the North Sea. All of them are stuck in my memory bank.
What do you do while on the plane?
I love a good read. Being on a plane is great for getting things in perspective.
Dave Salisbury is the NZ manager of Insight Vacations, which has launched new escorted tours to India starting from August.