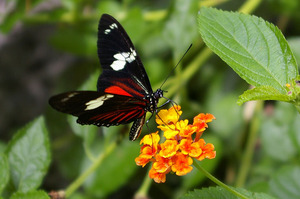 We are planning a two-week trip to Costa Rica in June (could be July if that is a better month) and would like to focus on the wildlife. We would prefer to work with the locals, stay in small places, use local guides and visit local sanctuaries, plus keep in mind ecological sustainability where possible. Large, fancy hotels and packed tour buses we would like to avoid. Hiring a car is a possibility if that is the best way to go.
Mary-Ann Rowland
Lonely Planet's Sarah Bennett and Lee Slater write:
Nowhere else in the world are so many diverse habitats squeezed into such a tiny area, and in terms of number of species per square kilometre, Costa Rica tops the list. This fact alone makes it the premier destination for about 1.5 million nature-lovers each year.
Ecotourism means big business in Costa Rica and it can seem like everyone is claiming to be a friend of Mother Earth.
Waiting until after you arrive to book some of your accommodation and activities means you can check out their credentials before committing. You should have no trouble finding businesses that are environmentally sustainable.
Finding small, locally owned and operated businesses that benefit their environment rather than harm it is an important part of Lonely Planet's on-the-ground research. The Costa Rica guide includes lists of the ones that meet our stamp of approval.
May and June, the early months of the rainy season, are a wonderful time to travel: you avoid the tourist bustle and lodging is slightly cheaper. However, rivers start to swell and dirt roads get muddy, making travel more difficult. Bring patience, an umbrella and old clothes.
Places to stay in Thailand
I am heading to Bangkok, Chiang Mai and Ko Samui. Where are the best places to stay? Money is not too much of a concern and backpacking sounds fun.
Jenn McKenzie
Thailand boasts a wide range of good-value accommodation, especially in the places you're visiting. There are plenty of options for the well-heeled, too, but the savings you make by staying at guesthouses or backpackers might allow you to holiday longer or fund a few extra special experiences. They are also fun and a great place to get hot travel tips.
When you're in Bangkok, narrow your accommodation search by first working out what area suits your needs. If you're just passing through, you're probably better off staying close to the airport. For good shopping, the backpacker area around Th Khao San is cheap and convenient. Should you want a central location, Siam Square is a good option as it's on both Skytrain lines, although it is more expensive.
Cool, cultural and karmic Chiang Mai has plenty of decent accommodation. Our picks are the family-run guesthouses in the northeastern corner of the leafy old city. In Ko Samui, we recommend you avoid the brash Na Thon and Kaweng in favour of Bo Phut and Mae Nam.
The new edition of Lonely Planet Thailand has just hit the shelves, and Thailand is also a popular topic on the Thorn Tree forum.
Win a Lonely Planet guidebook
Email your questions to travel.info@lonelyplanet.com and they'll be answered by Lonely Planet's experts.
In addition, the best question each week will earn a Lonely Planet guidebook. Add your postal address and the guidebook you'd like (see lonelyplanet.com).
Not all questions are answered and Lonely Planet cannot correspond directly with readers.