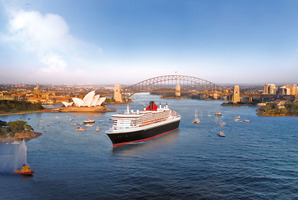 Sydney has welcomed the Cunard luxury liner Queen Mary 2 for its first overnight stay in in the city, following a 30-day circumnavigation of Australia as part of a 108-night world trip.
The liner carries 2500 passengers and rises 62 metres above the water line - just five metres shy of the highest sail of the Sydney Opera House and 10 metres above the navigational clearance for the city's harbour bridge.
Ann Sherry, CEO of Carnival Australia, which represents Cunard Line in Australia, said the boat's Sydney stay would inject A$1 million (NZ$1.3m) into the local economy.
The Queen Mary 2 returns to Sydney next year on a 106-night world voyage which will include a circumnavigation of New Zealand.
- AAP