These historic spots on the city's fringe will take you back in time.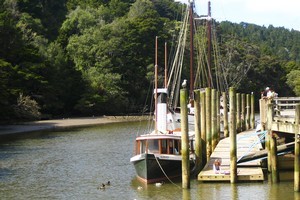 1. Helensville
Nestled beside the Kaipara River on the south edge of the Kaipara Harbour, historic Helensville is a lovely place to visit or live, and there's plenty to see and do. From harbour cruising, fishing, golf, horse riding, restaurants, vineyards, beaches. The Railway is a wonderful places to stop and The A&P Show is famous.
2. Warkworth
Also resting by a river, the Mahurangi, Warkworth is the perfect place to stop and enjoy a quiet moment. There are great parks for the kids, and it's close to some of the best beaches in New Zealand. There's also fine dining, arts, crafts and antiques, and a range of sports and leisure activities.The museum is well worth a look.
3. Clevedon
This little town has a rich history, beautiful scenery and plenty to do. The Clevedon Village Market, The Clevedon Animal Farm and the McNicol Homestead and Museum are just a few of its myriad charms. Black Rabbit Gourmet Food Tours and The New Zealand Warbirds are good for a gander.
4. Pukekohe
Pukekohe is the vibrant heart of the Franklin district and boasts a range of cafes, restaurants, artisan shops and quaint architecture that makes you feel like you've stepped back in time. There are plenty of tourist offerings, including the famous Pukekohe raceway, a wonderful golf course and some amazing vegetable stores,as well as a fabulous farmers' market.