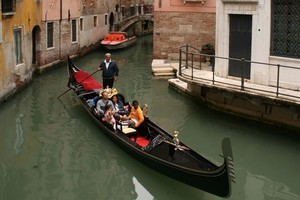 My husband and I want to go overseas for our 10th anniversary. We've dreamed of travelling to Europe so want to take the plunge. We will only have a maximum of four weeks. Are the pre-planned tours worth it or are we better to do it ourselves? Our main cities of interest are London, Paris, Rome and Venice. Any ideas how we can do this on a limited budget and time?
- Maylene
Embarking on a European tour is a fantastic way of celebrating your anniversary, and the cities you have earmarked are among the must-see destinations.
Package tours are generally more expensive, but they do eliminate the hassle of having to organise your own transport and accommodation. They don't, however, provide you the same level of flexibility, and you have no control over whom you'll be travelling with. Touring as a couple is likely to be more fun and romantic.
There are a number of ways of keeping your costs down, including avoiding the high season. The shoulder seasons of April to May, and September to October, are excellent times to visit Europe; the weather is usually good, popular spots aren't overrun and prices are lower.
As you have limited time, you may want to get open-jaw air tickets. These allow you to arrive in one city and depart from another, eliminating the need to retrace steps back to your point of arrival. Flying into London and leaving from Rome is a good option for you. Your long-haul flights are likely to be your greatest expense, so it's a good idea to research and book as early as possible. Comparison websites such as hipmunk.com and expedia.com are comprehensive and easy to use.
The rail networks in Europe are efficient and reasonably priced, although if you want to reduce travel time, you could fly between your destinations. Competition between carriers is fierce and hopping between major European cities can be surprisingly cheap.
Lonely Planet has more than 80 guides for Europe. Our No. 1 seller, Europe on a Shoestring, could be just the ticket; it covers 45 countries and is written for the budget traveller. With this in your luggage, you should have no trouble finding yourselves alone and canal-side in Venice, with champagne in hand.
WIN A LONELY PLANET GUIDEBOOK
Email your questions to travel.info@lonelyplanet.com and they'll be answered by Lonely Planet's experts.
In addition, the best question each week will earn a Lonely Planet guidebook. Add your postal address and the guidebook you'd like (see lonelyplanet.com).
Not all questions are answered and Lonely Planet cannot correspond directly with readers.