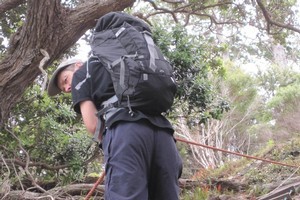 Packs have leaped mountains since trampers grunted up slopes with rigid-framed canvas sacks.
The 21st century model is light, clever and tough. The 50lt Altai pack ticks these boxes, tipping the scales at just 1.35kg.
Designed for short-term trips, the unit can swallow a sleeping bag, clothes, tucker and utensils with a little bit to spare.
Its narrow width means it suits a slender shape but it still did the job for a 6ft slogger on a three-day haul into the South Island back-country.
True to its contemporary design, the nifty unit has straps to tie on walking poles and zipped hipbelt pockets to store keys, a compass, snacks or camera.
Instead of the padded rear squabs found on old-school packs, the Altai has a perforated panel which is said to keep walkers cool on hot days.
It's hard to say whether this feature really works: put in the effort and you'll sweat regardless.
Internally there's a pouch for a water-bag.
But I've always carried a bottle so didn't need the extra bladder. If you're away for a week then you may want a pack to store a horse and carry a tent. But for an overnighter this will do the trick.
* Kathmandu stocks the Altai. RRP $449.98