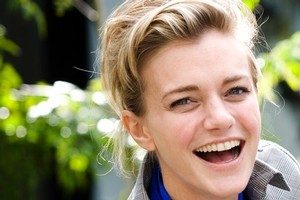 Do you travel light or heavy?
Light. However, I am always organised and take the outfits I need - I can't stand having to shop for the sake of it or just because I am travelling. This way you don't end up buying things on a whim. I love what is on offer at home and prefer to take this with me.
Cattle or first class?
Depends who's paying! I wish it could always be premium or more, as they really do know how to make you feel like crap in economy. A trick to get you to upgrade, perhaps?
I can't travel without...
My laptop, lip balm, pure lavender oil, a good book, moisturiser, cashmere, Jaimie "Northan" pant or "Gus" trousers.
What type of suitcase do you carry?
Hard case, four wheels. For carry-on it's the same thing but smaller. I used to use a carry-on bag with no wheels - not good for a lady with a laptop, books, toiletries...
grumpy shoulders ahoy.
What's always in your hand luggage?
Moisturiser, laptop, water, my book, toothbrush, cleanser. Cashmere.
What's the best thing you've brought back from a trip?
My boyfriend. Now my husband!
Best packing tip?
Wear your heaviest shoes, jumpers, jackets on board - it cuts back your check-in bag weight immensely.
Most memorable trip?
My honeymoon in Provence, France this year. Does that need an explanation?
Jaimie Webster is a fashion designer and owner of Jaimie Boutique.