Two of the Swiss resorts that invented winter sporting pastimes are still the best, writes Leslie Woit.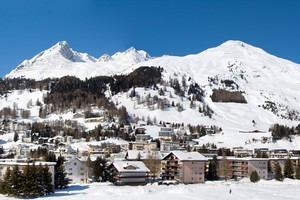 Yes, skiing can be dangerous. But when I was last there, even walking along the main shopping street in Davos seemed tricky.
Above the shops bursting with Bogner jackets and tasty baked treats, massive snow drifts were heaped like Nigella's leftover mash, cascading over the eaves of the resort's flat roofs. One good sneeze and the whole thing could've blown.
The resort made famous for hosting the planet's economic gurus at the annual World Economic Forum had been pummelled with a winter's worth of snow in just a few weeks. Roads were closed, lifts were shut, even the igloo village was snowed under.
During the storm of a decade, snow removal workers racked up 120 hours of overtime to clean it all up.
What a difference a year makes: there is no better place to be than the Alps right now.
There's no more perfect place to head during an old-fashioned winter holiday than two of the birthplaces of winter sports: Davos Klosters and St Moritz.
Connected by a scene-stealing Swiss rail journey and close enough to be combined in a week's skiing, these resorts offer an embarrassment of activities and diversions. The common denominator? Fantastic terrain that is so underused at the moment, you might almost feel sorry for the resorts.
Well, you might. But I don't. At the top of Davos Rinerhorn, a white sea of untracked powder unfurls between my new pair of Salomon BBR fat skis and the valley floor. It's a life-affirming, health-enhancing sort of feeling.
I'm in good company. Davos created an entire industry from people seeking cures for their ills; 26 tuberculosis sanatoriums were built here at the start of the 20th century. Its most famous literary association is with the author Thomas Mann, who was inspired to write The Magic Mountain after visiting the resort.
One hundred years on, the mountain and its five neighbours still weave their magic.
Schatzalp has gentle slopes, a harrowing sledge run and the former sanatorium-hotel in which Kaiser Wilhelm reserved a room for a decade, just in case. Above the town, Jakobshorn, aka Fun Mountain, has a snow park that is home to the O'Neill Evolution snowboard competition, and an outdoor hot tub at the Jatzhütte (website in German) to rinse off.
The small areas of Madrisa, Pischa and Rinerhorn, 10 to 20 minutes from town, are freeride heavens that regularly have powder well after last snowfall. And the big daddy area of Parsenn features 18 lifts and swathes of super-wide, hero groomers. In all, Davos Klosters offers 320km of pistes.
Credit must be given to the four British travellers who stumbled across the first 12km - the route down to Kublis - while lost in the fog in 1895.
Skiing the highest city in Europe provides urban advantages. Stay at the cosmopolitan Grischa Hotel - reopened after two years' renovation with a swanky bar, four restaurants and gargantuan beds - and you're within spitting distance of the train station and the ski bus (free, frequent and punctual).
For culture, check out the Winter Sport Museum (the only museum in the country to be recognised by the FIS, ski racing's governing body - website is in German) and the splendid Kirchner Museum (website also in German), with great lashings of colour by the German expressionist painter.
Davos is also home to Europe's largest natural ice rink (open air and romantic), and mile after mile of cross-country ski trails are available free of charge.
There's also a great opportunity to try night sledging. I rode the funicular up to Schatzalp, then enjoyed dinner, drinks and an alarmingly speedy descent punctuated by more than one fight with snowbanks that didn't get out of my way in time. Magic.
The next day, it was time to board the Rhätische Bahn, the romantic little red train that winds up and down Graubünden's peaks and valleys, destined for the glittering Engadin Valley.
I was staying just 5km from St Moritz, in the tiny lakeside village of Silvaplana, a nest of pretty houses decorated with sgraffito - an artistic effect achieved by scratching off the top layer of paint. Above it all, the new wood-and-glass slope-side Nira Alpina hotel offers unbeatable access to Corvatsch, the highest of St Moritz's four ski areas.
Should you want to get around, there is a free shuttle service, but there's lots to keep you here too: two restaurants, a bakery, a lovely spa with five treatment rooms and a whirlpool with a window onto the slope. There's also a French DJ on the top floor who keeps spinning long into the night. I was in Room 409 just beneath him, so I should know.
From my bed the next morning, I watched the shadow of Corvatsch move across pristine peaks as the sky turned aquamarine-pink. Then I suited up for the one-minute journey through the private, glassed-in walkway straight on to the cable car.
At 3303m, the skiing on Corvatsch is some of the Engadin's best: it's mostly north-facing, all its 120km of pistes are groomed nightly and there's a dedicated (and inexpensive) beginner's slope. Plus there's night skiing and the bars open on Friday evenings until 1am.
You can ski 9km down to St Moritz Bad, where you can connect to the Corviglia run or hang around to be well placed for a night in the hippest restaurant in town, La Baracca.
A shabby train workers' shed on the edge of a parking lot might not sound very "St Moritz" (even the name St Moritz is trademarked as a brand) but La Baracca is the cash-only, in-place for fur-meets-fleece parties. Grab your bottle from the shelf by the open kitchen, let Max show you to a communal table, then share bowls of delicious Italian and regional food.
But it wouldn't be St Moritz without quaffing champagne at one of the palace hotels. The all-suite, all-aglitter Carlton is the address to beat. In the Romanoff restaurant, corks pop and crystal tinkles. This is where the St Moritz trademark truly earns its stripes.
St Moritz is about looking good but it's also about feeling great. Nearly 90 per cent of the runs are graded beginner or intermediate, so it's easy to make pretty turns. Or you can head for the abandoned off-piste.
The place is also full of surprises, such as the woman next to me on the train who phoned her doctor for an urgent appointment saying: "My neck has fallen."
Or my ski instructor, the first I've met with a Harvard MBA, whose goggles read text messages.
And should you get too relaxed, you can swing by to watch brave people negotiate the bone-crushing curves of the Cresta Run.
Davos and St Moritz invented wintertime amusements. They may just have perfected them, too.
- INDEPENDENT