Exploring Italy's peaks produces a culinary surprise for Heather Whelan.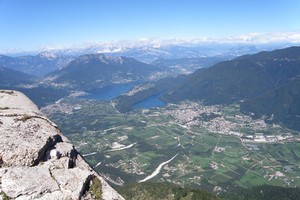 I suppose it was our own fault we got into trouble with the mushroom police.
We were in the Dolomites, a mountain range in northern Italy, when from our campsite at Lake Caldonazzo, we watched the setting sun turn the dramatic row of mountain peaks an amazing pink. At the top of one, there were the remains of a fort and a huge iron cross. We wanted to climb it.
Unfortunately, tourist information was scarce and the only brochures we could find were in Italian, German and Yugoslavian. But one did have a picture of the mountain we wanted to climb, so we tried to relate its sketch map to our road map. That didn't help, so we just headed up the tortuous road into the mountains.
The road took us as far as the Vezzena Pass where some walkers were parking by a cluster of restaurants. But we thought we'd drive a bit further before we began our walk, so we turned into a small road. Apparently, we missed the "No entry" sign.
After a while, we parked beside another car and explored the remains of what we found later was the Forte di Busa Verle, built in 1907 by the Austro-Hungarians and bombarded by the Italians in 1914, creating the present interesting ruin.
We continued along the road, which had become very narrow, through a gloomy pine forest. At intervals, there were wooden signs at the edge of the forest which I translated using our dictionary as meaning "don't touch the mushrooms". They must be poisonous, we thought.
The road eventually turned into a track at a cattle grid, but small signs - in both directions - indicated no entry.
Well, we had to return, so we made our way back through the forest and parked at a likely spot near another car where we searched in vain for a track up to the mountain peak. I noticed that this car had a prominently displayed pass on the dashboard and began to recall the other cars we'd seen had them, too.
As we retraced our journey, I began to notice people in the forest with baskets. Suddenly it dawned on me. No, we hadn't wandered into a fairy tale, they were collecting mushrooms, and they had passes to allow them to do so.
At this moment, a police car came around the bend towards us and we pulled over. There followed a comic scene where the non-English-speaking Italian police apparently kept asking us where our mushroom-gathering pass was while we adopted the non-Italian-speaking tourist, sorry-we-don't-understand, we-are-lost approach.
Eventually, the police conceded defeat and waved us away. I imagine they didn't want to get involved with the paperwork resulting from an arrest. We returned to Vezzena Pass, parked there and walked back up the road to the Forte di Busa Verle. A little further up, we saw a narrow track leading steeply up through a pine forest and, in due course, we made our way to the 1908m summit of our mountain and the remains of the fort, Pizzo di Levico.
The view from the peak was stunning. We could see mountain ranges in all directions and the town of Levico Terme and the twin lakes of Levico and Caldonazzo in the valley below. That a fort could have been built on this clifftop was amazing in itself.
A later online search produced the following advice: "The top the Pizzo stays directly over the Valsugana valley and a simple disattentzione can be revealed fatal: pay attention." We certainly had.
Further research also substantiated our mushroom-gathering theories. Trentino is famous for its 250 varieties of wild mushrooms, with 12 species of Trentino black truffles alone. The website explained that mushrooming is free for residents but non-residents must submit a form to the municipality and pay a fee.
The region's cuisine reflects the abundance of mushrooms. They are used in almost every dish, and they're delicious ... though we didn't pick any ourselves.
CHECKLIST
Getting there: The nearest airport is at Verona, 90km from Trento, but trains run approximately every hour. There are also regular trains and buses from Trento to Levico Terme.
Where to stay: There's a great variety of accommodation in the Trento area. See accommodation-dolomites.com.
Further information: See visitrovereto.it.
Heather Whelan paid her own way to Italy.