It's known as Chinese Valentine's Day, discovers Danielle Wright. She looks at what's to love about this year's Lantern Festival.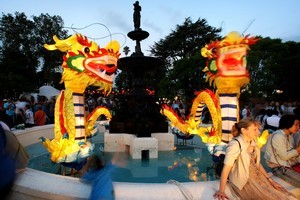 The Lantern Festival is popularly referred to as Chinese Valentine's Day because, traditionally, it was a rare chance for men and women to go out in the evening together. The beauty of seeing hundreds of lanterns in the sky must have added to this romantic notion.
The first lantern festival in Auckland was held in 2000 using a few secondhand red lanterns from the Jurong Gardens in Singapore.
Now, the colourful lanterns strung up through Albert Park show elements of Chinese culture - good luck peonies, ducks and goldfish, or complex lanterns depicting traditional life - and would now fit into about 20 shipping containers.
"I wanted it to be quite a nostalgic event - so that Chinese might remember what it was like back in China in the old days, maybe when they were children," says Asia:NZ culture director Jennifer King, whose lanterns also include a rural scene showing farmers growing rice, and a depiction of a hutong (a narrow street or alley in Beijing) complete with a grandmother playing with a child and old men playing chess outdoors.
Lantern Festivals are held each year in China, Hong Kong, Singapore and Taiwan to mark the end of the Chinese New Year celebrations. It's said that ancient Chinese believed the light of the first full moon of the lunar calendar brought out spirits so they lit torches to search for them, which later gave way to lanterns of every shape, size and colour.
What to see
Dragon dancing originated in China 2000 years ago as a way of praying for rain. Today, it combines dance, drama, martial arts and acrobatic skills, as well as strength and stamina.
The award-winning Sanlin Dragon and Lion Dance troupe from Shanghai will be performing it at the festival, although, hopefully, their dance won't attract any downpours.
China's best reggae band, Beijing-based Long Shen Dao will be performing with modern and traditional instruments, such as the guzheng (zither). The Taizhou Luantan Troupe, from Zheijang province, will also perform Southern Chinese-style opera and acrobatics.
"The event started in the Year of the Dragon so we've come full circle," says event producer Daniel Harrison, who says there will be quiet spaces among the festival's hustle and bustle.
"Bring a picnic rug, relax and watch the performances. There will also be little red lanterns to buy and take home."
As well as the beautiful lanterns lighting up the evening sky, there will be also be fireworks to open and close the festival.
What to eat
Chinese dumplings are a popular lantern festival food and there will be dumpling stalls as well as red bean cakes and barbecue pork buns for sale at the festival. Food from Hong Kong, Taiwan, Malaysia, Thailand, Japan and Vietnam will be sold as will a South Pacific take on the traditional food. Fresh coconuts will be available to drink.
"In Northern Asia, the Lantern Festival is in winter, so we add a few Kiwi twists to our celebrations to suit the summer temperatures," says Harrison. "There will also be icecreams."
Tea ceremonies will also be held nearby at Maclaurin Chapel Hall at the University of Auckland and you can enter competitions to win trips to Asia.
In the Year of the Dragon, the most highly anticipated year of the Chinese zodiac, you might just be lucky enough to win.
Lighting up
* The Auckland Lantern Festival runs from February 3-5, from 5pm-10.30pm each evening, at Albert Park, Princes St, Auckland City.
* The Auckland Art Gallery will be open late on the nights of the Lantern Festival, with extended hours to 10pm.
* Free films will be screening in honour of the festival on Saturday, February 4. These are: I.M. Pei - Building China Modern, which will screen at 1pm, a film following world-renowned architect Pei as he travels to his ancestral home in China; and New Beijing at 3pm, showing the huge redevelopment in Shanghai, not seen since Haussmann redesigned Paris in the 19th century.