Dunedin's lesser-known stately home is surprisingly progressive as well as pretty, finds Kate Roff.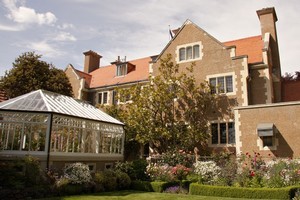 The Theomin family didn't do things by halves. When David and his wife, Marie, built Olveston House in 1906, they imported West Australian jarrah for their stairways, English oak for their floors, Moeraki pebbles and Oamaru whitestone for their exterior walls.
As if this wasn't enough, their home remains an example of efficiency and functionality - with mod-cons that you and I can still only dream of.
The Jacobean mansion was designed by London architect Sir Ernest George, and broke all the rules in colonial innovation. With central-ducted heating, an internal telephone system and electricity before the city of Dunedin achieved it, the house was truly a marvel for its era.
But the Theomins weren't a flashy family, explains guide Jenny Longstaff.
"They had money, but they also had taste, and it shows," she says as she leads the way through the beautifully decorated rooms.
As we meander through the servants' quarters, she points out the copper-lined sinks - an oddity, and a functional luxury.
"Apparently copper is a more forgiving surface on fine china and crystal," she explains. And judging by the Wedgewood sets still lining the sideboards, the Theomins had a lot of it.
A switchboard for the servants shows off the use of electricity - with call bells placed all over the house for the live-in and day staff. From there we move into the richly draped library, the lavish dining room and a grand hall.
"The beauty of this place is that it was only ever owned by one family," Jenny says.
"The daughter, Dorothy, left it to the city in her will, so everything has been preserved."
The Theomins travelled extensively, and their "trinkets" from around the world show off a Victorian obsession for collecting which would put many museums to shame. Carvings from Switzerland, glassworks from Venice, French clocks, lead-lighting from England, bronzes from Pompeii, North African rifles and Turkish carpets are all on tasteful display.
Amongst the gems are priceless Japanese weapons and a feather from the now-extinct native huia bird. Far from being an imperialist acquisition, this treasure was presented to David from his employees - a sign of respect.
"They were a very generous family," Jenny says. "They supported the Red Cross, the founding of Plunket and other charities."
Pointing out David and Marie's initials etched into the drawing room ceiling, Jenny says she thinks David must have been "a bit of a romantic".
Before presenting this cultural gem to the city, Dorothy stipulated in her will that all the clocks in the house must be kept wound, underlining her desire for the home to remain for future generations.
With more than 25 clocks, Jenny says this is no mean feat, but you can't help but feel like you are transcending time at Olveston.
CHECKLIST
Getting there: Air New Zealand has regular flights to Dunedin from around the country.
Where to stay: 526 George St in Dunedin is a historic home in itself. This boutique accommodation, in the heart of the city, offers a tranquil stay for heritage explorers.
Where to dine: Near Olveston House, on Maori Hill, sits the delicious restaurant No. 7 Balmac. Check it out for a chocolate brownie that is worth a visit to the South Island.
Further information: See dunedinnz.com.
Kate Roff paid her own way to Dunedin.