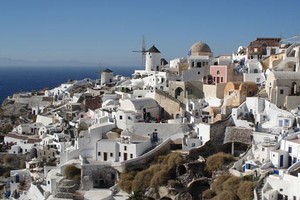 My wife and I are planning a trip to Greece next year in September. We are going to do a tour in mainland Greece but are also travelling independently to the islands of Crete, Mykonos and Santorini. How long do you think we will need to spend on each to really enjoy them?
- George
You could easily spend a couple of weeks exploring Crete and at least a week each on Mykonos and Santorini. However, if your time is limited, you could halve these times and still get a real taster.
Mykonos is famed for its marvellous beaches, but there is much to be enjoyed in its maze of white-walled streets. In Mykonos Town, hunt down Fato a Mano restaurant in Meletopoulou Square, where great Mediterranean and traditional Greek cuisine is served with pride.
Santorini's volcanic caldera is a dramatic drawcard, but be sure to check out the well-preserved Minoan settlement of Akrotiri and swim in the warm springs in the sea off Palia Kameni.
Round things out nicely back on the main island with a glass of crisp Assyrtico at Santos Wines high above the Aegean Sea.
A trip to Crete would not be complete without a look around the Minoan palace of Knossos - home to the mythical Minotaur. The alluring town of Hania, with its rich mosaic of Venetian and Ottoman architecture, is also worth a visit. Natural wonders include Samaria Gorge - a popular hike - and Elafonisi's pristine beaches and turquoise waters.
These websites are useful: Greece Tourist Organisation, Greek Ferries, interkriti.org, mykonos.gr and santorini.net.
Options open in Prague
I'm considering a working holiday for about a year and Prague is number one on my list. I've heard that it is easier to get a visa if you are from certain countries and that New Zealand is one of those. Also, how common are working holidays in Prague/the Czech Republic and what is the job market like?
- Kat Lee
With an economy that depends heavily on tourism, the Czech Republic has wisely kept red tape to a minimum for foreign visitors. Citizens from most countries, including New Zealand, do not need a visa if they are visiting as a tourist for up to 90 days. Furthermore, if you're travelling overland or have already flown into a European hub, there's no border control between the Czech Republic and other member countries.
In 2004, the New Zealand and Czech governments signed the Working Holiday Scheme; a reciprocal agreement allowing New Zealand citizens to apply for a one-year working visa for the Czech Republic and vice versa. For details, see mzv.cz/sydney.
The upshot is that you have to be 18-35 years old and intend to holiday in the Czech Republic, with work being an incidental rather than the main reason for visiting. You can't work for the same employer for more than three months.
With reasonably high unemployment and a ready pool of cheap labour, Czechs aren't always keen on handing out jobs to foreigners. However, with good job search skills and a bit of determination, you should find something. Pay is likely to be low.
Susan Griffith's Work Your Way Around the World is a useful guide.