Not-For-Parents Travel Book: Cool Stuff to Know About Every Country in the World
by Michael Dubois, Katri Hilden and Jane Price Lonely Planet, $30

Not-For-Parents: Everything You Ever Wanted to Know Travel Series
by Klay Lamprell, including London, Paris, Rome and New York Lonely Planet, $20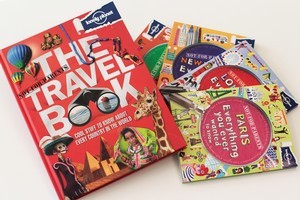 I confess I disobeyed the instructions in the new Not-For-Parents travel books from Lonely Planet and took a peek under the guise of reading a bedtime story to my sons. And I was glad I did, because I learned a lot.
These are not guidebooks and do not explain where to locate any of the places, people or activities mentioned, but they do tell you something interesting about them.
The large, colourful Not-For-Parents Travel Book has a brief selection of facts from every one of the 200 countries that make up the world today.
These snippets of easy-to-read information accompanied by colourful images range from - as my elder son put it - "gruesome to hilarious but very, very interesting".
As the book is oversize and hardback, it would not be something to slip into your backpack, but it would make a great gift for fact and/or travel-loving folk aged 8 years and up.
On the other hand, the smaller, softcover titles in the Not-For-Parents: Everything You Ever Wanted to Know travel series would make an excellent travel companion for a child visiting one of the famous cities featured.
These books skip the boring details about where to find the bus depot and concentrate on things that kids love.
It took us several weeks of nightly instalments to finish all the books. I thought even my fact-loving children might get bored with reading them all, back-to-back.
But when given the choice, they opted for one of the series every night.