The delights of cosmopolitan Byron Bay have Sheriden Rhodes and family making a return journey.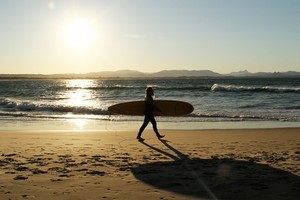 There would be few people who don't fall in love at first sight with Byron Bay thanks to its seductive beaches, lighthouse, cavorting dolphins, laidback vibe and fantastic cafes.
Many Australians are searching for "the new Byron Bay", but in truth there will only ever be one. Long a haunt for the bohemian crowd, today this cosmopolitan beachside town attracts seasoned travellers from around the globe. The streams of backpackers, surfers, yoga fanatics and cashed-up Sydneysiders who descend on the town can be overwhelming, especially in peak season, but it's still possible to enjoy the Byron of yesteryear: unspoiled, carefree and pristine, yet within reach of great coffee, fantastic restaurants and retail therapy.
I'd seen the collection of four, national park-owned and run cottages long before I knew you could actually stay in them. It was almost a decade later before I managed to secure three nights at Imeson Cottage, the smallest and possibly sweetest of the beach houses in the stunning Cape Byron State Conservation Area.
I'd booked it as a surprise for my family, including my mum and mother-in-law and, as we rounded a corner just on sunset, the two-bedroom cottage looked every inch the classic Aussie beach house, bathed in the golden afternoon light, with 180-degree views of The Pass, one of Australia's premier surf breaks.
Scrub turkeys foraged in the grass for food; a few surfers caught the last wave of the day and walkers headed back into town having caught yet another fabulous Byron sunset. My mum literally stopped dead in her tracks, dropping her bag on the footpath, her mouth wide open. She still says it is one of the most beautiful sights she has ever seen.
The cottages - Partridge, Mildenhall, Thomson and Imeson - are named after the original owners, who built them in 1910. Built on conditional leases associated with nearby sand mining on Clarke's Beach, the cottages became state-owned when they were vacated. All four have been completely renovated, but retain the charm and feel of beach holidays in simpler times. George Imeson built his cottage for "the kids to use as a holiday house".
Formerly the paymaster's office at the Norco butter factory in nearby Jonson St, this simple one-room building was relocated to the site and placed on stumps overlooking Clarke's Beach.
As the years went by, additions were made and today the cottage features two stylish bedrooms (sleeping four), with kitchen and living area, a large outdoor deck and ocean views to die for. My favourite memory is showering in the mosaic-tiled bathroom after a heavenly swim and looking through the louvred glass window, watching kite surfers fly off the waves.
The next four days were everything you could possibly want in a beach holiday. We made sandcastles in the beach, did a tour of the lighthouse (standing guard at the most easterly part of Australia), went for coffee every day at The Bay Leaf Cafe, and enjoyed fish and chips and barbecues on the deck within a few steps of Byron's famous Main Beach.
We also drove into Byron's scenic hinterland to the charming town of Bangalow. There you will find Island Luxe, an aspirational lifestyle store decked out in soothing whites and neutrals with beautiful French candles, fragrances, bohemian label Guanabana, Buffalo Girl belts, Bassike T-shirts, leather bags, luxurious resort linens and more, and Ate is a great spot for cupcakes and coffee.
We had such a fantastic holiday we returned again this year but this time we stayed a whole week at Thomson Cottage, around the corner from the other three beach houses. It lies in lush rainforest with direct access to Clarke's Beach, and is more private than Imeson.
Again, this charming historic shack transported me back to carefree childhood holidays of sunburn, hot chips and ice cream and we loved sharing this with our three-year old daughter who squealed as she jumped waves and ran free along the sand. Thomson is larger than Imeson with three bedrooms (sleeping six), but again with its floorboards, slatted glass windows, wooden deck, it retains a barefoot charm.
Days were spent walking down the dirt track to the beach, feeding kookaburras on the deck, making the scenic coastal walk to nearby Watagoes Beach and drinking pinot gris watching the sun set through the frangipani tree, looking across the water to Mt Warning.
It goes without saying we're returning next year.
IF YOU GO
Where to stay: Find out more about Partridge, Mildenhall, Thomson and Imeson cottages at environment.nsw.gov.au/nationalparks. Bookings start from $AU1950 per week for Imeson Cottage and $AU2600 per week for Thomson, and can be made through The Professionals Byron Bay, phone +61 2 6685 6552. The cottages are extremely popular, particularly during peak season, so try non-holiday periods or put your name down on a waiting list for a cancellation.

Getting There
Fly there with Air New Zealand Book now
Find out more at Australia.com