After whizzing about on the tarmac in a compact land yacht, Dionne Christian is converted to the Kiwi-created sport of blokarting.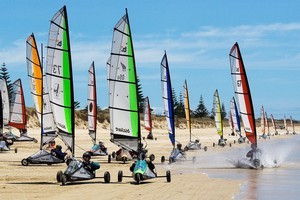 Whoooooooooooaa!
It's a blustery Sunday afternoon and I've got the wind in my face (but not in my hair because I'm wearing a crash helmet) as I hurtle around a disused section of runway at Ardmore Airport in South Auckland.
Strapped into and lying back in a contraption that looks like a go-kart with a mainsail, there's about 10cms and three tyres separating me from the tarmac. There's no accelerator or - somewhat worryingly - brake and I control the machine with just a steering wheel and sail rope.
The wind does most of the work but if I want to speed up, I pull in and tighten the rope with my gloved hands. To slow down, I let the rope out. Yes, it's a lot like yachting but there's not a drop of water in sight.
Instead it's blokarting (pronounced blow-karting) and I'm loving every minute of my first try.
As the description suggests, blokarting is a kind of land sailing created here in New Zealand by Papamoa's Paul Beckett.
Paul had a background in hang-gliding and land sailing but wanted to build a wind-powered "toy" that was fun, fast, compact, affordable and accessible to people of all ages. Unlike bigger land yachts, a blokart is so compact it can be packed away into a bag that fits into the boot of a car.
For about five years, I've seen flotillas of blokarts around town and always thought it looked like fun - which is unusual considering I'm the antithesis of a dare-devil adrenalin junkie.
But blokarts are unique because they appeal to two very different types of consumers. Being light-weight, zippy and able to reach staggeringly high speeds - the world record is 101.6km/h - they've won fans among those who feel the need for speed, but for us more cautious types, they feel safe and easy to use.
Blokarting began in 1999, and is now a rapidly growing sport - and after visiting the Auckland Blokart Club and whizzing round the track, I can see how you could get seriously addicted.
It's fast, thrilling and - pun intended - a breeze for beginners who, like me, have never done yachting, hang-gliding or even go-karting.
Ray Kelly, a technology teacher at Macleans College, was holidaying in Tauranga when he first saw blokarts in action. A landlubber who wasn't keen on sailing, he was nevertheless intrigued by blokarting so gave it a go back in Auckland.
Now he wears T-shirts declaring his obsession with the sport, which he describes as a great stress reliever.
Ray is a patient teacher who happily lends me his blokart, a helmet and gloves and helps me make my way up, down and around the track. He's right; it is relaxing and I've soon forgotten about everything other than the wind and keeping the blokart upright.
He's only too willing to let me keep going but as I get more confident and relax more, I can see myself not wanting to stop so I call time on my experience.
With more than 80 members, the ABC is New Zealand's largest blokarting club. Given it meets on a Thursday evening and Sunday afternoon in summer, I figure there's plenty of chances for me to return - and I fully intend to, with my husband and kids.
The wind will have to be right. Blokarts run in wind speeds of 5 knots minimum to around 40 knots maximum, although club member and superyacht designer Ross Vickers says anything over 30 gets a bit hair-raising.
You can blokart on purpose-built tracks, like Blokart Heaven in Papamoa, airport runways, large car parks, beaches and dry lake beds. The ABC makes regular trips to Ninety Mile Beach.
For those wanting to get more serious, there are regular races like the Auckland Champs which are on at Ardmore November 5 and 6. Members like Ross will use summer events to ready themselves for the 2012 Blokart World Championships being staged on a dry lake bed at Ivanpah, California.
Now that sounds like fun ...
NEED TO KNOW
• The Auckland Blokart Club promotes the sport of blokart sailing in the Auckland area.
• Blokart Heaven is the world's first purpose-built blokart track, where you can learn to sail, participate in or watch regular races. It's in Papamoa, the home of blokarting. Call 0800 4 BLOKART or (07) 572 4256, email info@blokart.com.
• BlownAway Blokarts provides blokarting events for various groups, most often using Takanini's Bruce Pulman Park. You can find out more by emailing hello@blownaway.co.nz
• Muriwai Surf School also rents out blokarts.