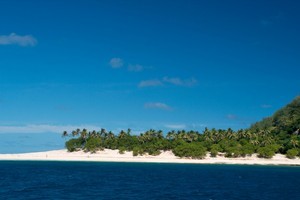 Tom Hanks spent the best part of two hours trying to stay sane while devising a way to escape a deserted island in the feature film Cast Away.
If you ever get the chance to visit Modriki, the Fijian island where the Hollywood blockbuster was filmed, the last thing you will want to do is leave.
With beaches covered in brilliant white sand and surrounded by a coral reef buried in snorkelling-friendly warm waters, uninhabited Modriki is one of more than 300 Fijian islands peppering the Pacific Ocean.
09-01-2012 08:00:00
It's also one of the most notable day trip destinations because of its links with Cast Away.
Other than HELP ME being spelt in the sand with coconut shells - reliving the scene where Hanks tries to attract the attention of passing planes - there's nothing to remind visitors of the production's visit.
And it's one of a number of Fijian islands that have seduced Hollywood.
Reality TV shows Bachelorette, Survivor and Celebrity Love have all been taped in Fiji.
Mel Gibson has his very own secluded isle, which includes a landing strip, and Paris Hilton has even hired an island for a weekend.
It's testament to Fiji's natural beauty and as you slip through the Pacific Ocean there's not a land mass you pass that doesn't entice you to visit.
However, on this day trip with South Sea Cruises aboard the Seaspray, an 83-foot schooner which was once the centrepiece of a TV show itself, there's only time to visit Modriki and a nearby local village.
If you're susceptible to being sea sick take precautionary medication and remember to take a hat and sunscreen and drink plenty of water to avoid dehydration.
Otherwise, like the mayor of a small Texan town discovered on our tour when his friend almost passed out from sun stroke, you may have to upgrade to the air-conditioned captain's lounge for the return journey.
The upgrade is only $12 extra each way and well worth it.
Mayor James Soefje enjoyed the trappings of the captain's lounge, which included free drinks and snacks, but his Texan mate, with his red sunburnt face glowing like a Humphrey Bear night light, spent the 90-minute return journey with his head buried in the bench seat. Be warned!
The village tour provides an insight into the simplistic lifestyle of the not-so-rich and famous residents of Fiji.
Jewellery, shells and wooden carvings are sold by very laid-back vendors at the village market.
During the village tour on Yanuya Island, you will also be offered the chance to join in a short and sweet religious ceremony and afterwards you will be offered kava, a drink formed from the grounding of local plants.
Several day trippers took up the offer and while no one grimaced or screwed their face up at downing the muddy drink in one gulp, no one asked for seconds either.
Don't be fooled by the lack of spirit, haggling or passion among the market sellers.
All of the stall holders share in the spoils of the sales so pushing souvenirs under your nose, saying they'll give you a "morning price" or "love you long time" to get your cash is not part of their modus operandi.
These stall holders would rather sleepily laze in the sun, offer a friendly "bula bula" greeting as you traipse through aisles of grass huts and wooden stalls looking for your memento.
It's a pleasant experience and very much in keeping with Fijian hospitality, whether it's at a village or a five-star hotel like the InterContinental Golf Resort and Spa on Viti Levu.
Situated on the opposite side of the island and about an hour's drive from where you depart for the Seaspray tour, the InterContinental is the ideal place to stay for honeymooners, loved-up couples and young families.
The staff are warm and friendly and the resort has its own beach - a little rocky and windswept - and an infinity pool, which provides the perfect surrounds to enjoy cocktails.
The oceanfront balcony rooms contain an outdoor bath that can be shielded from view and are virtually sound proof.
Handy if you wish to pump up the music, and you won't be disrupted by the cries of a baby in a neighbouring room.
A nightly traditional dance ritual in the main bar at sunset adds to the atmosphere of happy hour.
For the sports-minded there's a tournament-quality golf course, a small putt-putt green within the grounds of the resort and a volleyball court.
With all that at your disposal, now you just have to devise a way to get to Fiji and stay on one of the islands for as long as you can.
IF YOU GO
Where to stay: InterContinental Fiji Golf Resort & Spa at Natadola Bay from $184 per person twin share for a garden view room, includes buffet breakfast. Children 12 years and under stay and eat free (valid for sale and travel until March 31, 2012).
What to do: Creative Holidays' South Sea Cruises Seaspray Day Sailing departs daily from Denarau with pick-up available from Coastal Hotels.
The writer travelled as a guest of Air Pacific, Creative Holidays, InterContinental and South Sea Cruises.
- AAP