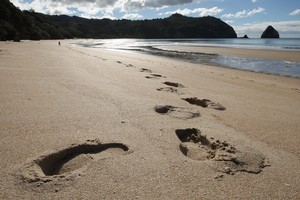 Coromandel just pips the South Island as New Zealanders' favourite domestic holiday destination in 2011, although most people would rather go abroad.
The peninsula of golden beaches, surf breaks and gold-mining relics has become the most favoured spot as the economic downturn cuts into Kiwis' holiday spending options.
A Herald-DigiPoll survey found 22.2 per cent of those polled chose it as their favourite holiday location, followed by the South Island with 21.3 per cent.
Travel commentators believed the pinch of the recession has made Coromandel stand out as a cheap, accessible, short-term destination, ahead of more traditional - and more expensive - hotspots such as Queenstown.
Coromandel I-site manager Tara Turner said New Zealanders were increasingly making short trips and camping on friends' back lawns or in budget campsites.
"People are downsizing, staying with families and dining out more, and spending more money on activities, like fishing trips."
She said the most popular spots on the peninsula - Cathedral Cove and Hot Water Beach - were still drawing crowds, but people were also opting for the Department of Conservation's cheap campsites in the northern Coromandel, such as at Kennedy Bay.
She said the key to Coromandel's appeal was that it was only a short trip from Auckland or Hamilton.
"You can finish work at five on a Friday, get on the ferry at six and be in another world with a plate of oysters in front of you by early evening."
Despite tough economic conditions, a third of those polled picked "overseas" as their favourite holiday destination.
This figure was influenced by young people's keenness for overseas experience - 42 per cent of 18-39 year-olds picked the overseas option.
Travel agencies indicated that the most popular overseas destinations were nearby spots such as Sydney, Melbourne and Fiji.
Among long-haul destinations, the United States and the United Kingdom remained the most popular this year, with China close behind.
Among local destinations, the Bay of Plenty placed third in the poll and the Bay of Islands fourth.
The most recent entry in the Lonely Planet travel bible for the Bay of Islands praised its beauty but singled it out for being expensive and "a teensy bit overhyped".
"The budget goes out the window as a bewildering array of boat trips clamour to wrestle money out of your wallet," the guidebook said.