A trip to the races is about more than just the horses, writes Alexia Santamaria.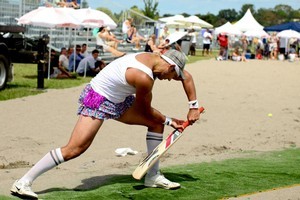 When you think of horse racing, two images immediately spring to mind.
"Old men and meat pies," as someone put it recently; or high fashion, hats and champagne.
But there are also some lovely family days at Ellerslie, as we experienced last week.
Despite the slightly windy weather, Ellerslie put on rides, a sausage sizzle and iceblocks for all.
Our five-year-old protested "Horses? Booooooring!" but we dragged him along assuring him it was more fun than he was picturing in his little brain.
In typical child fashion he was a convert to the very thing he'd pronounced desperately dull five seconds ago and was soon asking "Can we watch another race?"
We were lucky enough to get a behind-the-scenes tour of jockeys mounting some very fired up horses - some who did not want to be mounted - through to the final post-race weigh-in.
It was very exciting.
Kids, especially boys, gravitate towards speed and competition so the excitement of race day is perfect. It's even better with multiple kids (we only brought one of our two) as they can back a horse each and watch its progress. Nothing like a bit of rivalry. Our wee man loved watching the horses tear round the track with the ambulance in hot pursuit on the inside, It was all the action and dust he could ever want.
He was also deeply amused by the commentators race calling. He was a bit young for betting but for older kids it could be fun to give them $5 or $10, place a few bets for them and see how they go. Our picks weren't even placed but it didn't dampen the fun of watching. After a few races it was off for sausages and iceblocks and some bouncy-castle action. A lot of fun for the now converted race-goer.
Ellerslie racing CEO Chris Weaver says: "We have really made a concerted effort to put together some big family days at Ellerslie. I personally have great memories of growing up in Canterbury and going to the races with my parents and grandparents and I feel strongly about bringing that back. Every year the numbers get bigger on our family days and this coming Boxing Day looks to be the biggest we've had for a very long time. We love the idea of families bringing picnic baskets and really making a day of it."
The family fun day definitely made us excited about the upcoming Christmas Carnival on Boxing Day. It's going to be a fantastic day out for all ages. Fashion in the Field, Beach, Beats and BBQs and the Herald's own photographic experience are just some highlights (you can have your photo taken in front of the green screen and receive a free print out of you super-imposed on the cover of The New Zealand Herald or Viva).
Ellerslie is shipping in more than 2000m of sand and 12,000 litres of water to make an infield beach and there will even be a beach cricket tournament. There will be live music from DJs and musicians, food stalls - or you can bring your own bangers and use New Zealand's longest barbecue free of charge. A beer hall, Giant Jenga and Connect Four, Swingball - and of course the chance to win some money on the gee gees - pretty much ensures all family members have a great day. Our new race fan will definitely be dragging his baby brother along to show him this new world of fun.
ELLERSLIE RACEDAYS
Please check all info at ellerslie.co.nz before departing.
Boxing Day:
* Infield gates open at 9.30am. All other racecourse gates open at 10am. First race (of 10) runs at about 12.55pm and the last race runs at about 6.50pm.
* $20pp general admission/entry into Beach, Beats & BBQs. Children under 15 years free.
* Bring cash with you on the day to save time queuing at important places such as bars and totes (many of which are cash only).
December 28:
* Gates open 11am. First race 12.30pm and last race 5.18pm.
* Free general admission and car parking.
* Bouncy castle and swing ball park open and free for all.
New Year's Day - Super Sunday:
* Gates open 11am. First race is at 1.05pm and last race is at 7.05pm.
* $10 Adults, free car parking.
* The beach from Beach, Beats & BBQs will still be open with water, a beach cricket set plus New Zealand's longest barbecue to cook on, bouncy castle, swing ball park and giant games.