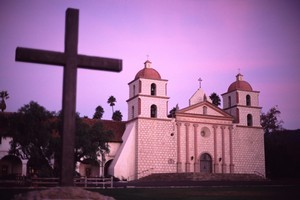 My husband suggested I draw up a bucket list as I am about to go into hospital for my third breast cancer operation this year. We are trying to do so many things as I don't know if I have 10 years to live or just a few. As we are attending a family wedding in Vancouver next September, I have suggested we go to San Francisco and Los Angeles. I would love to hear some good tips about where to go, what to see and how best to get there. We have been put off going to the US for the last 10 years as the immigration authorities are so dreadful, but I understand they are improving.
- Marianne Stevens
Lonely Planet's Sarah Bennett and Lee Slater write:
Flying is definitely the quickest way to get from Vancouver to San Francisco, and with many airlines servicing this route, you'll have no trouble finding reasonably priced flights. The best way - the bucket-list way - is to take a road trip.
Board an Amtrak train or bus to Seattle (3 hours) and then rent a car to drive through Washington state and Oregon before hitting California.
No trip to California is complete without a jaunt along the surreally scenic Central Coast. The famous Highway 1 skirts past posh Santa Barbara, retro Pismo Beach, collegiate San Luis Obispo, fantastical Hearst Castle, soul-stirring Big Sur, down-to-earth Monterey Bay and hippie-haunt Santa Cruz. Rent a large, comfy car and take things slowly - this idyllic coast deserves to be savoured, not gulped (that same advice goes for the locally grown wines, too).
Car Rental Express compares independent agencies in US cities and can be useful for finding good deals, particularly on longer-term rentals. As prices vary wildly, it's worth checking out several websites before deciding which to go with. Also bear in mind that adjusting the days of your rental even slightly can drastically change the rate - weekend and weekly rates are usually cheaper.
If time allows, consider taking a couple of side trips before heading south to LA. North of San Fran are the Napa and Sonoma valleys - fine places to get pampered at a spa before splurging on some great food and wine.
Yosemite National Park is also drivable in a day; it's a jaw-droppingly beautiful place to visit any time of the year, except high summer when it can be bumper-to-bumper.
Lonely Planet's USA guidebook will help you plan your road trip, as will these useful sites: roadtripamerica.com, byways.org and driving-distances.com.
Don't let US border security put you off your trip: things in this department have indeed improved significantly over the past few years.
Marianne Stevens will receive a copy of Lonely Planet USA ($69.99) for her question.
Campervan queries
Years ago we travelled to Europe and are again keen to see Portugal, southern France, Italy, Greece and Turkey. We will also sidestep to Morocco. If we bought or hired a campervan, how would the travelling costs add up compared with other means of budget travel and accommodation? Can you always find somewhere to park up such as a campground and do you have to pre-book? What about freedom camping? Can you take a campervan to Morocco or do you store it and pick it up on returning?
- Marg
Buying or hiring a campervan is a popular way to tour Europe. London is the easiest embarkation point and there are some good British publications and websites to check out for purchases and rentals, including Loot, Auto Trader and Worldwide Motorhome Hire.
Buying your own vehicle can work out cheapest, particularly if you sell it for a good price at the end of your trip and don't choose a lemon that costs a fortune to fix. Either way, with your transport and accommodation largely taken care of, your daily budget should be able to be kept lower than even a backpacker using trains.
Camping is widespread in Western Europe and you should have no problem finding a place to park up. Most will not require a booking, although it is advisable in major destinations during peak times. Freedom camping in most Western European countries is illegal without permission from local authorities or the landowner.
You might like to consider subscribing to Camping Card International (CCI). It provides third-party insurance and discounts up to 25 per cent at over 1100 campgrounds across Europe.
Taking your campervan to Morocco is straightforward. Regular ferries run from Spain, Italy and France. Algeciras (Spain) to Tangier is the most popular route, and ferries run hourly in summer. All you will need to make the crossing is your vehicle registration document, an International Driving Permit and proof of vehicle insurance.
Just be sure to check that your insurer covers Morocco, because not all do.
Win a Lonely Planet guidebook
Email your questions to travel.info@lonelyplanet.com and they'll be answered by Lonely Planet's experts. In addition, the best question each week will earn a Lonely Planet guidebook. Add your postal address and the guidebook you'd like to receive.
Not all questions are answered and Lonely Planet cannot correspond directly with readers.