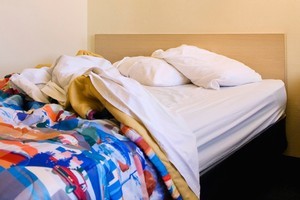 Bedbugs, unwashed sheets and dirty toilets are among the biggest hygiene fears of Kiwi travellers, a survey has revealed.
The Travelbug survey of 11,000 New Zealanders, conducted by the Trade Me website, asked people their destination preferences and hotel habits.
Of those, 32 per cent revealed their biggest hotel hygiene fear was discovering unwashed sheets in a room, followed by an infestation of bedbugs (24 per cent) and dirty toilets (15 per cent).
"Maybe people think bedbugs are unlikely but unwashed sheets are quite a real fear - you do hear some horror stories about what people find when they pull back the sheets. But in reality NZ hotels are very clean by world standards," said Trade Me head of travel Daniel Bridges.
Those most scared of germs were women aged 18-29, with 95 per cent having some hygiene fears, compared to the least concerned - men over the age of 60 - 22 per cent of whom had no hygiene fears.
The survey also revealed some fascinating habits of travellers once behind the hotel room door, said Mr Bridges.
Men were more likely to wander into the wrong hotel room, with seven per cent having done so; and 68 per cent of female respondents aged 18-25 had no problem taking the hotel toiletries home with them.
Queenstown was a clear winner when it came to the most sought-after destination.
More than 80 per cent of New Zealanders planned to travel around the country this summer, with the town topping the list of best destination they had visited and most preferred place to return to.
The visitor-friendly aspect of the town was a large part of its appeal, said Mr Bridges.
"It's no longer just a winter playground there's so much to see and do and it really is an exhilarating place to be all year-round. It's exciting and unlike anywhere else in the country with world-class visitor experiences like ZipTrek Ecotours, Shotover Jet and bungy-jumping."
The "Queenstown obsession" was particularly strong among young people, with 26 per cent of those aged 18-29 picking it as their number one holiday destination.
Northland also rated strongly, with those over 60 selecting it as their favourite place to visit.
When travelling, most people preferred to people were happy to pay for accommodation and have their own space rather than stay with friends and family.
- APNZ