California's Pacific Coast Highway offers hidden gems, sweeping views and an accidental encounter at a nudist resort, discovers Megan Singleton.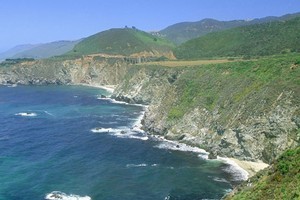 The entire Pacific Coast Highway (or PCH, as the locals call it) stretching from the Canadian border to Mexico, is about 2000km long. But from Los Angeles to San Francisco (the most popular section) it's only 800km. Doable in a day if one wanted to hurtle along, but even in five days we couldn't fit everything in. So here are the bits you shouldn't miss.
DAY 1: LA TO SANTA BARBARA
I love the Los Angeles city of Santa Monica. It's home to great shopping on Third Street Promenade, with stores all the way to Santa Monica Place, a two-storey mall with pricier retailers. The impossibly wide beach and sunset views beg to be absorbed from a great rooftop bar and, if you're feeling energetic, rent a bike and cycle to eclectic Venice Beach, stopping to stare at the posers on Muscle Beach along the way.
Spend a couple of days here then join the Pacific Coast Highway behind the row of multimillion-dollar beachfront homes, and keep the ocean on your left. (Note: your GPS may try to take you on the LA Freeway, which is the shorter route.
Ignore it!)
Must see: Camarillo Premium Outlets. These are about 40 minutes north of LA and have 160 stores like Armani, Ralph Lauren, Banana Republic, Restoration Hardware and Nike, spread over three complexes.
Pillow time: Start with a bit of luxury in your own private bungalow at the 90-year old Fairmont Hotel Santa Monica, a hop, skip and jump from Third St.
DAY 2: SANTA BARBARA
Touted as the American Riviera, I think this is the prettiest city in America. You can see its strong Spanish influence in the adobe-style buildings, a wide tree-lined main street with shops and restaurants hiding piazzas with stone fountains, hanging baskets bursting with colour and that enormously wide beach. The city is hugged by the Santa Ynez mountain range, which protects it from the desert heat and the string of eight Channel Islands helps keep onshore sea breezes moderate.
Aim to see the Old Mission, shop on Main St, eat great Mexican food and climb to the top of the Court House bell tower for 360-degree views.
Must see: The Old Mission was founded in 1786 by Franciscan friars and is still home to the order. The building is a stunner, the art will make you walk very slowly and you'll fill your memory card with the gardens, statues and architecture.
Pillow time: Brisas del Mar Inn is about three blocks from the ocean. It's comfy, but not plush.
DAY 3: BIG SUR
Today the wide sandy beaches give way to rugged cliffs and rocky peninsulas along the coast of Monterey, where vast forests and state parks stretch from the Santa Lucia Range to the Pacific Ocean. This will be your longest drive (about 320km) so stop at San Luis Obispo for lunch then continue on to Hearst Castle in San Simeon.
Must see: Hearst Castle was built by publishing magnate William Randolph Hearst in the late 1920s and hosted Hollywood glitterati back in the day. Take one of the tours scheduled throughout the day and your jaw will drop at the antiques and furniture collected from all over the world, elaborate guest villas, bejewelled swimming pools and sweeping views to the coast.
Pillow time: Ventana Inn sprawls over 98ha in the woods high above the Pacific Ocean. Expect to find bison on the menu and an open fireplace in your room. But beware the "clothing optional" pool area. I got quite a start when confronted by the lily-white bottom of a portly, middle-aged man slathering his equally endowed wife with sunscreen.
DAY 4: SANTA CRUZ
Today you'll want to stop at the cute higgledy-piggledy town of Carmel to shop with the rich and used-to-be-famous (watch for former mayor Clint Eastwood), have a coffee or a wine at Pebble Beach Golf Club, then detour along 17-Mile Drive past the $20 million retired golfers' homes on your way around Monterey Bay. Santa Cruz is dotted with wetsuits on the waves and scantily clad young things playing beach volleyball. An old-fashioned Boardwalk with whizzy rides and brightly painted stalls underscores beautiful blue-sky days.
Must see: At 146 years old, the famed Boardwalk is the oldest theme park in California.
Pillow time: Dream Inn has the best views in town. Sit on your balcony with a glass of wine and watch the waves pounding below, then stroll the 825m-long wharf that stretches into Monterey Bay for cheap and cheerful American fare.
DAY 5: SAN FRANCISCO
With only an hour-and-a-half drive to San Francisco, leave enough time for a spin over the Golden Gate Bridge to Sausalito for spectacular views of the city, Alcatraz and that stunning bridge from this arty neighbourhood.
Must see: The famous row of Victorian villas with the San Francisco city skyline behind them at Alamo Square in the Haight-Ashbury district. These houses are TV and movie stars.
Pillow time: The family-run Handlery Hotel is found right on Union Square and you're bound to meet owner Jon Handlery, who loves having Kiwis to stay and is always ready for a chat.
Megan Singleton was assisted by Air Pacific and DriveAway Holidays.