A meander to Whangaparaoa makes for a perfect Sunday, finds Helen van Berkel.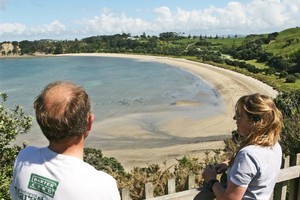 Every curve of the winding Whangaparaoa Rd offers another sea vista. To the south, the distant towers of Auckland City and urban hills of East Coast Bays; to the north, the dark humps of the Barrier islands. Scudding clouds leach the sea and sky of colour leaving the ocean a blank, dramatic silver or imbue the coastlines with all the blues and hues of a postcard when the sun appears briefly between showers.
Whangaparaoa boasts numerous hidden coves and beaches, and the locals make good use of the choices - the Stanmore Bay Boating Club carpark was packed with boats and cars on a recent Sunday afternoon and the beaches were dotted with walkers.
Ted Pointon bought 2.8 ha here nigh on 60 years ago and indulged his passion for railroads, building a narrow-gauge railway complete with a tunnel and an impressive wooden viaduct. He built the little engines that chugged along on it, keeping his labours of love for himself and his family until 1992.
His wife proudly shows off photographs of her husband building the railway over the decades.
The backgrounds reveal the peninsula's astonishing development since he laid his first sleeper. Once grass-swathed hills are now hidden under housing and the two-lane road is now a double-lane highway for much of its length.
A few surviving fibrolight baches huddle next to flash mini-mansions, mixed with 60s bungalows, A-frames, townhouses and retirement villages.
The railway makes for a cheap and fun stop-off on a Sunday afternoon drive. The little train chugs through the bush that Ted planted and you can buy food to give to the rabbits, chickens and guinea pigs.
At the end of the peninsula is Shakespear Regional Park, which walkers and beachgoers share with the defence department. Walks take you through heritage areas, regenerating bush and, of course, along coastline and beaches.
We took the Waterfall Gully track, heading to a lookout on the south side of the peninsula. The path took us through native bush, and the promised waterfall is indeed worth a stop-off for a quick photo: large trees with twisted trunks loom over the track.
It was here that military scientists designed a "tsunami bomb" to clear Pacific coral atolls of Japanese troops in World War II.
By now, though, we were getting hungry, so next stop was Gulf Harbour, a Mediterranean-style village of apartments, stores, housing and even a school. It looks all the same, was my daughter's comment, and she's right.
Colours and shapes are uniform, yet it is an attractive village, it was a shame there weren't more artsy-craftsy style stores - we spotted only one - to entice us to open our wallets.
We ordered a light lunch at Carpe Diem which, even on the chilly afternoon we visited, attracted a reasonable crowd of diners, well rugged up against the breeze. My daughter enjoyed her lasagne and me my seafood chowder: it looks posh, but it's not too expensive.
The peninsula offers numerous dining and shopping opportunities, with a well-developed collection of restaurants and cafes at Little Manly, the Pacific Plaza near Arkles Bay and shops at Stanmore Bay and Red Beach.
Nowadays, there are three routes to Whangaparaoa from Auckland: the old Albany highway takes you through the village and rural southern Rodney; the new motorway is a speedy trip with an off-ramp at Silverdale; or East Coast Rd, which we opted for: a slower, cruisier passage through the greenbelt.