A new book checks out 70 outlets sure to delight coffee-lovers, writes Jim Eagles.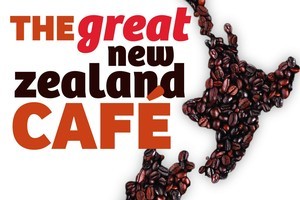 "New Zealand is arguably the best country in the world to do a cafe crawl, exploring cafes and countryside that will take your breath away."
So say Matthew Hawk and Niki Grennell, who between them have 60 years' experience running and patronising cafes, and have now written two books on New Zealand's cafe culture.
They began with Espresso Escape, a little black book offering tips on 40 of Auckland's best and most interesting cafes.
Now they have expanded into The Great New Zealand Cafe, a 144-page book featuring 70 selected cafes, from Food at Wharepuke and the Boatshed Cafe at Rawene, both in the Far North, to Sticky Beak Cafe at Invercargill, in the deep south.
Starting with a list of cafes recommended by coffee-lovers - baristas, other cafe owners and enthusiastic locals - they spent three months checking them out.
They discovered not only a lot of great coffee but also, according to Matthew, that the cafe crawl has taken over from the old-style pub crawl.
And, he adds, New Zealand is the perfect place to do it.
"Australia has a great cafe scene and yet Australians are coming here to do cafe crawls."
So where do they suggest coffee-lovers should crawl to?
One of Matthew's favourites is their first stop, the Origin Coffee Station in Otorohanga.
"Arrive here at the right time and you can join a free coffee class."
Another stand-out is the Flying Fox on the Whanganui River, which "requires taking a flying fox for access, creating mystique and adventure".
Then there's the Big Wave Cafe on the beach at New Plymouth, "in the shape of a big wave, with armchair pizzas and coffee on offer".
Matthew's pick from Wellington's large cafe scene is Maranui Cafe at Lyall Bay. This, he says, used to be for Maranui Surf Club members only and, as a result, the club had the largest membership in the country at 30,000.
In Dunedin he likes Chucky's Coffee House - more of a hallway, really - partly because "an evil doll in the movies" is an interesting choice to name a cafe after, but also for the great music scene.
And he pays special tribute to the resilience of the Christchurch cafe scene post-quake.
"Out of the rubble, Under the Red Verandah moved next door and became After the Red Verandah, [while] the staff from the Lyttelton Coffee Company set up in a friend's garage while they rebuild."
One of the reasons the Kiwi coffee scene is so interesting, Matthew concludes, is that "we make cafes out of just about anything. The owners are passionate, hard-working and love what they give back to their communities".
* The Great New Zealand Cafe, by Matthew Hawke and Niki Grennell (New Holland, $34.99).